#ChemEngCatchUp Episode 11 – Dr Vahid Niasar
Meet the Department 15th November 2016
Hello all. And welcome to episode 11 of the #ChemEngCatchUp. It's been a while since our last episode, when we caught up with Emily Cooksey, but today's interview was definitely worth the wait. Without further ado, let's say hello to Dr Vahid J Niasar:
Hi Vahid. Thanks for chatting to us. Can you please describe your research, for the layman, in ten sentences or less?
So, my research – well by background I'm an engineer, I did civil engineering, and then I was more interested in environmental engineering so I changed direction. My research has to do with whatever is related to the sub-surface, and sub-surface means what's happening below your feet. In terms of the contamination, in terms of the flow of the water or whatever's underground.
And after that, because of my career, I changed a couple of jobs and I ended up in the oil industry. So by training I became a kind of petroleum engineer as well, so my research has to do with petroleum as well.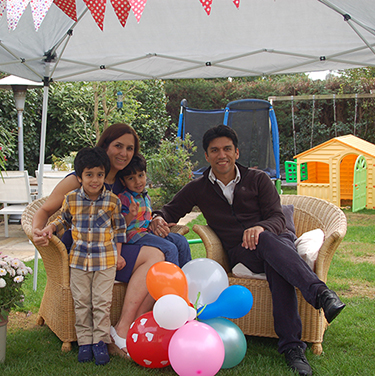 So now I consider myself a kind of multidisciplinary researcher from the environmental side to the petroleum side, and what I do is I look at whatever processes are involved in these two disciplines and how we can understand them better, how we can improve our technology, but in a way that improves the efficiency of the technologies that we apply in the real world.
And how can your research benefit the public?
My research has two aspects. One side is the experimental aspects and the other is the modelling part, and in most aspects they come together. The complete story is that if you have both together in a way that you understand what's going on in the nature in industry, to the real nature on the environmental side, then we can understand what the processes are.
For example, I can explain the first research I did. It was about the contamination of the ground water in Tehran, the city that I was living in at the time. That contamination was due to the cesspools because you have sewage that will be discharged to the sub-surface through cesspools, and the sub-surface will the go into the water, and the water is used for drinking. So there are serious consequences if it is contaminated. Because the whole public, all the people living in Tehran, will be affected by the contaminated water.
So my study was to look at how big the contamination was, what were the major parts of the contamination, and which parts of the city are more polluted and which are less polluted in terms of the groundwater. And this is one example of how we understand the processes and the problem and then we propose the solution of how we can improve the quality of the environment, and how we can improve the quality of the life.
So that's one aspect. The other aspect is a totally industrial base, in that it's petroleum engineering. So we know that the main energy source for us is hydro-carbon, so to remove oil from the reserve oil is not an easy job. Usually at least, roughly, 50% of oil that exists is trapped in the reserve. Which means we can't get it out if you don't do something clever. So to do something clever, you have to do lots of research. So part of my job is also linked to that – how we can design technology to reduce the amount of oil that is left in sub-surface. Which means that you can produce more energy with the sources that we have.
That sounds fantastic, Vahid. Thank you. So could you tell us how you first got interested in your research area?
As I said, I did civil engineering as a bachelor and then I did an MSc. In the bachelor I was lucky to end up at a university in Iran where the civil engineering was not only focused on construction of buildings, because civil engineering is usually only about buildings and these things. Our study was also linked to hydro. We had hydro powers, we had dams, we had sewage systems. These things were part of the study. So then I became quite interested in water in general. So when I went to do the research for MSc I was interested to do something as meaningful. All research is meaningful, but the point is that you can do research that has applications too.
So I was looking for a real problem that I could study. Living in Tehran, we have loads of environmental problems, from air pollution, to soil pollution, to ground water pollution. So ground water was the first topic that I was interested in because I could see that so many people are influenced if you are not aware of the contamination going on. And to be honest, there was no research going on before, specific to that location in Tehran, on nitrate contamination.
So I did a project that was joint with so many institutes in Tehran, so about 17 organisations were very involved. So I was getting data from those and I was doing the modelling and explaining to them what was going on. And in the end it became quite interesting because all these institutes and organisation and authorities from the government liked it. And on top of that, a ministry in Tehran gave me an award for the research I'd done at MSc level.
So that was the first time I was touched by research. I thought 'okay, you can do something where you're working with equations and modelling but in the end you can provide a solution that has serious applications'. And after that I became quite interested in continuing my study to PhD and so on. So then, basically, the story happened.
And who or what first inspired your interests in science and engineering?
If I was going to be really honest I'd say that, from childhood, I was inspired by my uncle. My uncle is a civil engineer. He's working in different disciplines but the major discipline is in the hydro powers and electricity, these types of thing. But by education he was a civil engineer.
He tried to train me, in a way, to think differently about the problems around me, and to think how you can solve the problems by engineering. And then later on we had more and amore interactions through high school, and then when it came to the point of deciding where I wanted to go it was clear to me that I wanted to be a civil engineer. I was highly influenced by him. I was inspired by him.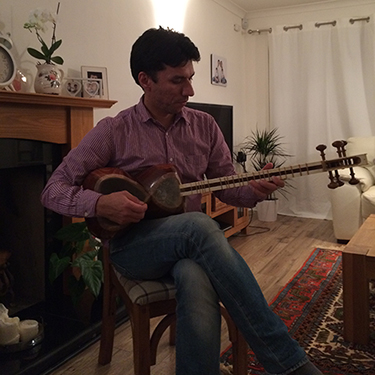 Moving away from work for a question, could you tell us a bit about your other interests? What do you get up to in your spare time? 
My interests are quite diverse. Reading, of course, is the easiest hobby because you can do it everywhere. I love playing music. Although I would say, during the last one or two years, since I moved to the UK, I've had less chance to do so. Because of the workload and other things.
But in general, I love music; and by music I mean traditional Iranian music or even classical music. I play an instrument called tar, which is the father of the guitar. It has six strings that are two by two and each pair is pitched together. The shape is quite funny because it looks like a heart.
Other things I do for fun include playing tennis. Not regularly or anything, but I like it.
Great stuff. And onto our last question now. How does being here in Manchester help your work and research?
To be honest, my career is quite diverse. I studied in Iran, then I worked in Iran for five years in engineering consultant companies. Then I moved to Holland for a PhD because I liked research and I was missing it at that time. So I worked at my PhD and then after that I worked as a post-doc in Holland as well. Then, at that time, I liked to do the kind of research that is, in terms of…  Well, because when you get older you start to think more of stability, I wanted to do research but at the same time I wanted a more stable job.
So I ended up having a research position with Shell in Holland. So I worked there for two years almost, I really liked that experience. But still I missed the environment and atmosphere of academia. And the reason was that I wanted to drive my research myself. Because in industry your research is highly influenced by the market – today you're working on this topic, tomorrow you're working on another topic. There's no continuation, necessarily. But in academia you can lead your own research with your own way of thinking. And you can establish your team and guide people and train people.
So when I was at Shell I was still going to conferences and things. And at one of the conferences I met Nima (a previous #ChemEngCatchUp interviewee), my colleague. He said 'Hi, how's it going?' and I said 'it's fine, I'm just looking for academia jobs. Something stable.' And he said 'there's an opening in Manchester'. I'd never thought of the UK, to be honest. But he sent me the job advert and I looked at it and I applied. And it worked out. And then I moved to the UK, with the family!
Thank you, Vahid. We're glad you had that chance meeting and came to join us here and it sounds like you're doing some very important research. Thanks for chatting to us.
Readers, thanks again for joining. We've got some good stuff coming up on the blog, so keep your eyes peeled.
Related posts