MSc ACE graduate journey – Nasiru Mohammed
Chemical engineers at work 17th June 2020
What is your name and age, and where are you from?
I am Nasiru Mohammed, 31 and originally from Abuja, Nigeria.
Which degree programme(s) did you study at The University of Manchester, and at what level?
I completed a Master's in Advanced Chemical Engineering at postgraduate level.
What did you enjoy most about the course?
I really enjoyed the versatility of the prospects that the course offered due to the diverse range of modules included.
The mix of students was also really nice; off the top of my head between 15 – 20 nationalities were represented. The funny thing is, Nigerians still made up over 60% of the class, so I felt right at home.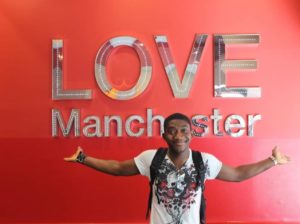 Can you tell us a little about your career post-university, and the role you're in now?
After the programme, I decided to stay in the UK rather than return back home as planned, with some persuasion by family members that were based here. While putting out loads of job applications, I took a part-time job at one of the big 3 grocery chains. This turned out to be something I really enjoyed and almost influenced a career change! Fortunately, my mum didn't like the idea, especially as the opportunity came with the possibility of moving to the far-east to help set up a flagship store in the region. For her, that was too far a distance to visit as often as she would have wanted and so I decided to continue looking for a graduate role in chemical engineering. The right opportunity eventually came over a year later.
I started out as multidiscipline project engineer in a niche company which provided water treatment solutions to onshore and offshore facilities. Seeing that it was the allure of going offshore that put me on track to becoming a chemical engineer in the first place, I asked to be placed in the offshore division where I spent 7 years.
In my final 3 years at this company, after managing several projects, I decided to make a leap into engineering project management. With the support of the company, I obtained professional certification and chartership in project management. My mentor had also advised that I look to take on challenges within other industries, preferably one I had a passion for. This was a decision that was made after putting through my chartership application with the Institution of Chemical Engineers.
At the beginning of this year, I took on a new role as project manager for low carbon assurance projects with one of the leaders in low carbon business assurance and engineering consultancy.
How has your work adapted during Covid-19 and has your role changed?
One of the benefits that attracted me to my current role was the opportunity to work from home two days a week. This not only cut down stress levels, but also significantly reduced my carbon footprint.
As the company is global, with several large offices out in the far-east and Asia, the COVID-19 situation was something we were tracking early on, especially as it affected our colleagues in China as well as parts of my project. I was made the point of contact for COVID-19 impact and had been sending out regular updates on my project team as well as stakeholders. This meant that as the situation got worse, my workload increased.
The current situation and its global impact have meant me focusing my efforts on managing the fall out and doing all that I can to get projects back on track while monitoring the situation and ensuring that my team members and their families are safe.
How have you adjusted to the new way of working?  
Working from home isn't new to me, but the other restrictions brought by the situation is what makes this period challenging. Not only has the current situation drastically changed our way of working, it has also forced us into a very isolated and segregated way of living.
It has not been easy but following health and safety advice and guidelines (especially around mental health and combating negative feelings like stress and anxiety) has been really helpful.
One thing I have done, which has helped me and my colleagues at work combat the feeling of isolation, is set up a virtual informal coffee time meeting. In this meeting, it is compulsory to have webcams on and we do not discuss anything work related.
What skills gained at Manchester have helped you adapt to your new ways of working?
Thankfully at the university, the international mix of my class meant that I had the opportunity to experience cultures different to my own. This also brought with it the opportunity to experience the different ways people communicate and how work is carried out. This really helped me to build communication skills and a team-player mentality. Also, as it wasn't always easy to meet up with project team mates, most meetings had to be held virtually with team members contributing work in chunks. These skills have been very instrumental in my career successes.
Do you think this will change the way you work permanently?
I believe that as things return to a new normal, employers and the workforce have come to realise the benefits of working from home as well as the need to provide adaptability and flexibility in ways of working. So yes, I do think the way I work will change permanently, if it hasn't already.
What advice can you give to students who are adjusting to new ways of working and studying?
Social distancing does not mean social isolation. It is very easy to make this assumption and lock yourself away in your dorm room or at home completely isolated, which may then lead to mental health issues such as stress, loneliness and anxiety. So I say, take full advantage of the vast amount of social media applications out there to stay connected with colleagues, friends and family. Although this situation is a game-changer, it also comes with opportunities such as now being able to seek for those openings that were once thought to be limited by geographical location.
How you handle this situation, which is sure to pass, is also an opportunity to demonstrate your resilience and determination to prospective employers.
What are your hopes for the future?
Hopefully, life will change for the better, as the current situation has highlighted the various ways work can be done without the need for excess travelling. It has also highlighted the need to invest in robust infrastructures to cope with health emergencies.
I hope that, as focus shifts from rating the importance of roles within the society by monetary remuneration to social impact, more people will be inspired to take up roles within STEM and those already on the STEM path will have a new sense of pride.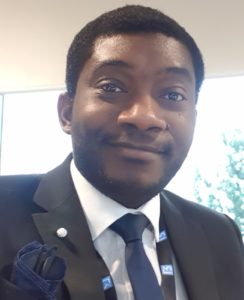 Mohammed Nasiru Enemona (MSc Advanced Chemical Engineering Graduate)
Related posts