Social responsibility awards 2020 🏆 : Celebrating the best of CE
Meet the Department Welcome to CE 3rd August 2020
On Wednesday 16th July, we held our annual (but first virtual) Social Responsibility Awards, recognising the commitment of staff and students to helping others through areas such as charity work, environmental research, and improving well-being.
Foreword by Prof Phillip Martin
Social responsibility is really important for CE and for the University of Manchester. We strive to make a positive difference to the life and future of our region by taking socially responsible decisions that have real, beneficial, measurable impacts on the people and the world around us. For example, chemical engineering can play an important role in developing environmentally sustainable solutions to problems.
Our ethical grand challenges enable all our undergraduates to tackle and understand problems relating to equality and diversity, sustainability, ethics and social justice.
Through Stellify, we also encourage all Manchester students to participate in activities such as volunteering and to undertake diverse roles of responsibility among their peers and in the wider community.
Within CE we have a partnership with a university in Uganda to help develop chemical engineering in the country and each year several CE undergraduates participate in this programme by visiting Uganda.
With a Manchester degree in chemical engineering, you can make a difference to the world!
Outstanding Contribution to Volunteering and/or Charitable Initiatives (Staff & Students) 

This award recognises staff and students who give their personal time to volunteer on projects or with groups in the community locally, nationally and internationally, and/or spend their time working on charitable initiatives.
Student Winner – Ali Hassan Juma Al-Ajmi
Ali has held two of the most important roles within the community of Omani National Scholars in the UK: General Secretary, and President for the Omani Student Council. The Council aims to help Omani students in Manchester and to create a home-like environment that gathers all the Arab students from around the UK by organizing events and initiatives. Ali was also a committee member of the Arab Debate Union, a platform where all Arabic language speakers can enhance their debating and communicating skills.
Staff Winner – Tracie McArthur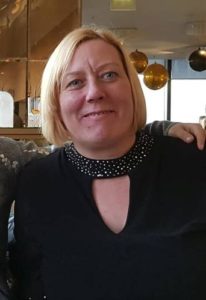 Last year Tracie completed the Walk All Over Cancer Challenge doing an average of 20,000 a steps a day for a month. In the end with additional sponsors, the total raised with Gift Aid was £1,150 for Cancer Research UK.
In addition, Tracie is renowned for engaging with all the charity initiatives undertaken by the Head of Department Office and is usually one of the first to contribute/take part.
Outstanding Public Engagement/Widening Participation in the Field of Science and Engineering
Student Winners – Zainab Abbas, Rosemary Hargrove and Lubna Al Harthy 
The Women in Engineering Society was set up (by three chemical engineering students!) this academic year, to provide community and support to women studying engineering degrees at the University of Manchester. BP reached out to the society to sponsor an event looking into gender disparity in engineering.
Outstanding Benefit to Society through Research
Staff Winner – Aleksander Tedstone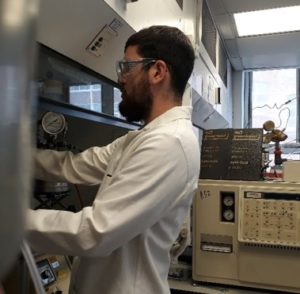 Aleks has been invaluable in carrying out research on several grants and supporting 2 PhD students directly on polymer recycling. Aleks also has given his free time to voluntarily help coordinate the efforts of and carry out research with a cross-disciplinary team of UoM researchers and industrialists working towards more sustainable hospitals. He also leads the sustainability effort for our research laboratories ensuring we achieved and held on to our Green Impact Award Gold status, and is expanding his research horizons in plastic recycling by co-authoring both a follow-on to the UK Cat Hub award, and a recently submitted NERC bid with University of Sheffield Dental School.
Excellent Contribution to Equality and Diversity
Student Winner – Sky Mun Synn Hang
In 2019, Synn joined the Student Angels project in its pilot phase as one of the first shift leads. The Student Angels are a project by the University of Manchester Students' Union in partnership with the LGBT Foundation, involving a group of student volunteers who help provide support to the Manchester community on nights out. They patrol Oxford Road on Friday and Saturday nights, supporting Mancunians with everything from a sit down and a chat, to First Aid.
Excellent Contribution to Environmental, Sustainability and/or Green Impact
Staff Winners – Head of Department Office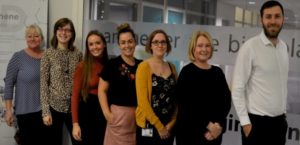 The Head of Department (HoD) Office Team have done amazing environmental and sustainability work this year. Laura Earnshaw won a grant for City of Trees, and the entire Team have changed meeting orders to vegetarian food, reduced the number of posters, plus the work done on promoting 10,000 Actions in the Department. The HoD Office Team are a driving force for environmental sustainability in the Department.
Pictured from L to R (Debbie Woods, Laura Earnshaw, Abbi Crawford, Denise Grehan, Jennifer Carlson, Jemma Elston, Nick Bell).
Excellent Contribution to Wellbeing

Abbi Crawford and Laura Earnshaw (HoD Office – pictured above)
Abbi and Laura have done amazing work in promoting Wellbeing in the Department over the last year, from the Wellbeing Day, to Wellbeing Wednesday, to setting up the Quiet Room. They have continued to promote this virtually during Lockdown.
Outstanding Teaching and Learning Innovations in Social Responsibility
This award recognises innovation in the curriculum where teaching and learning has had an impact on social, cultural or environmental issues.
Arthur has led on environmental teaching, initially through the MSc course in Environmental Management and Technology, and latterly through his work as Head of Teaching, introducing sustainability issues such as the Hydrogen Economy into the curriculum. Additionally he has brought his enthusiasm for plastic recycling into teaching UG and PG research projects.
Outstanding Contribution to Chemical Engineering

This award recognises how a member of staff or student has used their chemical engineering knowledge to enhance the social wellbeing of a person or community.
Elizabeth Roberts, Kristianto Gozali, Georgina Vickers, Lefteris Tsiakkis, Mattis Francois, Kyrie Hobson and Brenda Wiputeri (Students)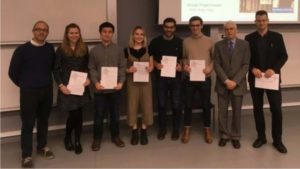 This team of students from The University of Manchester won IChemE's Macnab-Lacey Prize for their design of a more sustainable process to produce dimethyl carbonate. You can read the full story about their success here.
Congratulations to all our CE winners!
Related posts