Our new series of Entrepreneur Events
Student experience 31st March 2021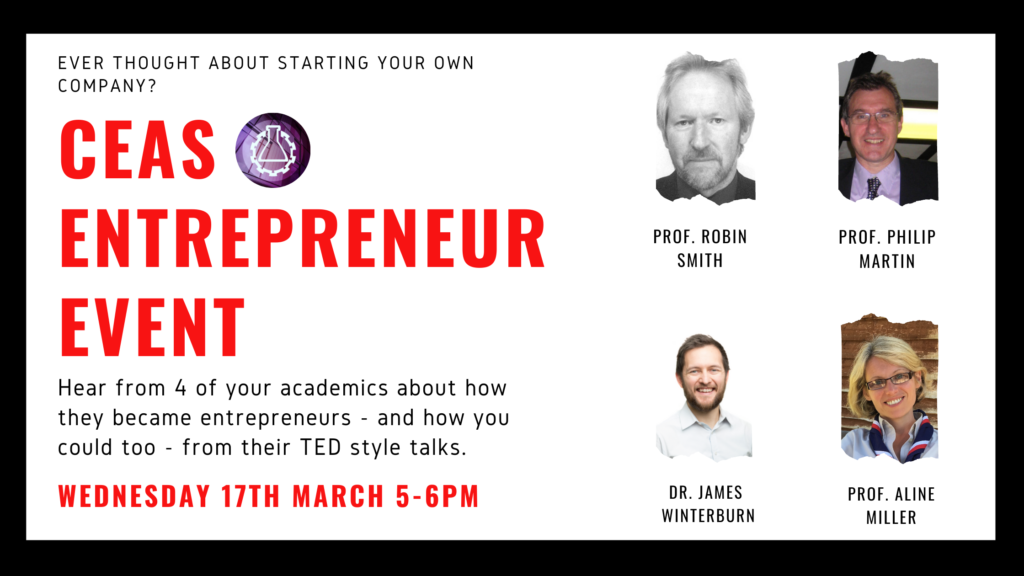 On Wednesday 17th March, CEAS had its first in a series of Entrepreneur Events. This event saw Professor Lev Sarkisov present four CEAS academics who themselves became entrepreneurs, and gave staff and students the opportunity to listen to their journey's and take some inspiration from how they got to where they are now. The high attendance of 89 students and staff has shown there is an entrepreneurial spirit in the department!
The academics that gave TED-Style Talks were Professor Aline Miller (Manchester BIOGEL), Professor Philip Martin (TDL Sensors Ltd.), Dr. James Winterburn (Holiferm) and Professor Robin Smith (Process Integration Ltd.) It was fascinating to hear the individual journeys that led to each different company, where they are now and the advice that they would give to future CEAS entrepreneurs.
Students fed back that it was refreshing to hear honesty about the ups and downs of starting a business, and inspiring to hear first-hand experiences from those that teach them. CEAS student, Jacob Thran, wrote "Listening to our lecturers talk about their joys and struggles of starting a business was a truly eye-opening experience! Hoping to have the courage to do something similar one day."
PhD student, Isabel Pazmiño Mayorga, added "Success arises after a road of ups and downs, but persistence and passion led the way for these fantastic engineers/entrepreneurs. The lesson: do not give up after an error or two, or several. Learn from them and grow."
Thank you to all of the academics for sharing their journeys, and we look forward to planning the next Entrepreneur Event in this series.
Words by Maisie Curry, Student Experience Intern.
Related posts