Mechanical engineering alumna Alice
In the real world Women in engineering 3rd March 2021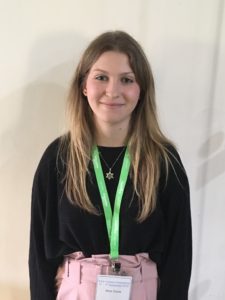 Name: Alice Davis
Job Title: Project Manager
Organisation: Schneider Electric
Year of Graduation: 2018
Course studied: BEng Mechanical Engineering with integrated Foundation Year
Before graduating I wanted to work for a multi-national engineering company, but I wasn't entirely sure what kind of role I wanted. In order to gain more exposure to different roles I applied for graduate schemes where I would have the opportunity to try working in different areas. I always thought I'd enjoy a product-centric role but it turns out I prefer being more customer facing.
"I attended several sessions run by the Careers Service which set me in good stead for job applications and interviews"
While I was at university, I attended all the career fairs on offer. This resulted in a summer placement at JCB and subsequently introduced me to Schneider Electric where I currently work. I also attended several sessions that the careers service organised which set me in good stead for interviews and applications.
Aside from my degree, I was also involved in the Formula Student team and was a Student Ambassador where I helped with STEM events, open days and visit days speaking to prospective students and parents.
After graduating I completed a graduate scheme at Schneider Electric. I spent 4 months in Telford in a Marketing role for Building Management Systems (BMS), 4 months in Ashby in the role of Tendering in BMS and 4 months in Warrington as a Project Manager in Low Voltage Modernisation- which is where currently work. In addition, I also spent time commissioning at a large data centre in Ireland.
"The graduate engineering scheme exposed me to several different areas and roles… I tried things I might otherwise never have considered"
Being on a graduate scheme exposed me to several different business units and roles within a short period and meant that I tried things that I might otherwise never have considered. This allowed me to work out what was most suited for me. It was also invaluable for rapidly building up contacts across the business.
Moving from full time education into a high-pressure, commercial working environment takes a bit of adjustment. But I feel coming from a hands on degree such as engineering prepared me well. The most successful team in any working environment is one filled with dynamism and variety. We work best when we have people around us who complement our skillsets and interests but are not carbon copies. Diverse teams are key!
My advice to others would be… be yourself, recognise your own strengths and weakness and have the confidence to go for things that challenge you and take you out of your comfort zone. If someone else can do it, so can you.
Want to find out more about the undergraduate courses that we offer? If you have any questions about our courses or about applying, please do contact us at ug-mace@manchester.ac.uk and we would be very happy to help you!
Hear more from our current and past students on the MACE blog.
Related posts