The remarkable life of Dame Kathleen Ollerenshaw
Departments Heritage 22nd August 2019
This month marks five years since the passing of Dame Kathleen Ollerenshaw, a mathematician and politician who overcame adversity from a young age to become one of the most respected Mancunians of her age.
Recently on The Hub we've looked at various historical figures who've made a real impact both at The University of Manchester and beyond, including Kathleen Drew-Baker and Sir William Boyd Dawkins, and today it's the turn of Dame Kathleen – a woman who did so much for education, politics and the advancement of women throughout her life.
Beginning her teaching career at the University as a part-time lecturer in the Department of Mathematics, she would go on to hold some of the most illustrious positions in the city – including Lord Mayor of Manchester.
She achieved all this despite being almost completely deaf by the age of eight.
Excelling from an early age
Born in 1912 in Withington – known today for housing a high proportion of Manchester's student population – Kathleen was the grandchild of shoemaker William Timpson (that's right, the founder of multinational retailer Timpson, which began trading from Manchester's Oldham Road in 1865).
She inherited otosclerosis from her father's side of the family and, following an illness at age eight, almost lost her hearing completely. Kathleen wouldn't hear again until she received her first hearing aid around 30 years later. 
This wouldn't, however, prevent her achieving some incredible things.
Her promise, both academically and physically, was evident from a young age. Kathleen became fascinated with mathematics – particularly because her deafness wasn't a disadvantage to studying it. 
In her autobiography, published at age 93, she said of the subject: "Mathematics is a way of thinking. It requires no tools or instruments or laboratories. It may be convenient to have a pen and paper, a ruler and a compass, but it is not essential: Archimedes managed very well with a stretch of smooth sand and a stick."
Likewise, her deafness didn't hold her back on the sports field. At school she played cricket and lacrosse, and regularly won the 100-metre sprint on sports day. She also excelled at hockey, and would play for Lancashire County, the North of England and the Reserve England elevens. Other sports to pique her interest included figure skating, ice dancing and mountain climbing.
Kathleen was better able to cope with her deafness by learning to lip-read from a young age. This was viewed as preferable to learning sign language, which requires the person you're conversing with to also know how to do it. She was taught here at the University, aged eight, in a department – unique at the time – that trained students to become teachers of partially deaf children.
The University of Manchester would also help with Kathleen's progression in education; before winning a scholarship to Somerville College, Oxford, she spent a year studying higher algebra and geometry here with one JM Child, author of the book 'The Higher Algebra'. Impressively, she didn't mention at her interview for the scholarship that she was deaf – for fear it might be considered too great a disadvantage. She only revealed her hearing impairment after she started the course.
It was also in childhood, aged five, that Kathleen met her future husband Robert. Fittingly, maths would play an important role in their early relationship, with Robert presenting her with his slide-rule when starting sixth form. She said of the gift: "He felt he wouldn't be needing mathematics and I would make better use of it. This slide-rule was of a superior design: large, with a powerful cursor. He had made a leather case for it and I counted this as the mark of true love."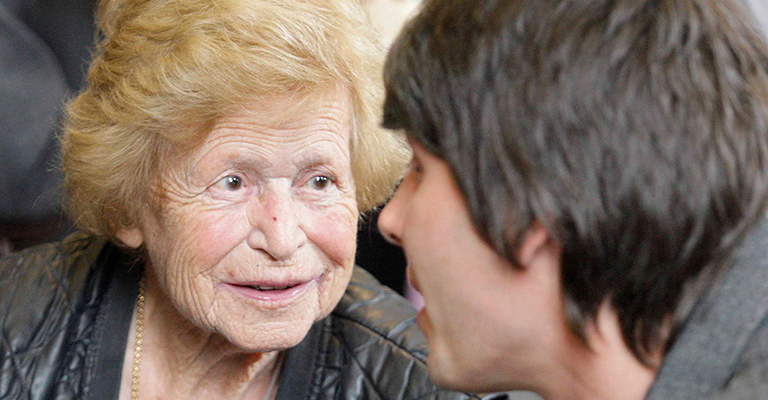 Solving the puzzles of education
Kathleen made many mathematical breakthroughs throughout her career. A couple to note here are her work with magic squares (challenging maths puzzles that date back as far as the ancient Chinese) and the Rubik's Cube.
For the former she produced the first-ever method for constructing and enumerating these squares, while for the latter (originally called the Magic Cube and widely considered the world's top-selling toy) she devised its first general solution. Her work with the Rubik's Cube led to an injury requiring an operation – and hers was dubbed the first-ever case of 'mathematician's thumb'.
Her ongoing work in education, meanwhile, took her to Japan, where she found an attitude geared towards an expectation of success mixed with a high standard of discipline – such attitudes she wished to see reflected in the UK.
Dame Kathleen's contribution to education in Manchester would see her instrumental in both the formation of Manchester Polytechnic (now Manchester Metropolitan University) and – after discovering the joys of music thanks to an improved hearing aid – the Royal Northern College of Music, the rooftop of which was designed in memory of her daughter Florence.
Her ongoing influence here at The University of Manchester is underscored by the annual lectures that bear her name, hosted by the Department of Mathematics.
Other interests – politics and astronomy
Another passion in Dame Kathleen's life was politics. She served as the Conservative Councillor for Rusholme for 26 years between 1956 and 1981, a time that also included a stint as Lord Mayor of Manchester (1975-76) before she was invited to be an adviser to Margaret Thatcher's government in the 1980s – where she tirelessly promoted women's education.
She was most proud, however, of her role as Lord Mayor of Manchester. During her term of office she wrote a children's book called The Lord Mayor's Party, in which she told of how she'd play Frisbee in the main hall with her secretary.
Dame Kathleen's interests extended to astronomy, and she was an honorary member of the Manchester Astronomical Society – the custodians of the Godlee Observatory here at the University's historic Sackville Street Building – and even held the post of Vice-President for a number of years. She also donated her telescope to Lancaster University, and the observatory atop the roof of its Physics Department is named after her.
This facility was opened by the famous monocled astronomer (and GamesMaster) Sir Patrick Moore, who was close to Dame Kathleen and once, showing a picture of an eclipse on TV show The Sky at Night, said: "I wish that I had taken that photograph but I did not have the good fortune to do so – it was taken by my friend Dame Kathleen Ollerenshaw."
It seems Dame Kathleen made quite the impact on lots of people throughout her long and illustrious life. The composer Sir Peter Maxwell Davies, for example, dedicated the ninth set of his Naxos Quartets – in which magic numbers are used to evoke childhood memories of the Manchester Blitz – to her.
Dame Kathleen's was, truly, a remarkable life; an inspiring story of triumph over adversity.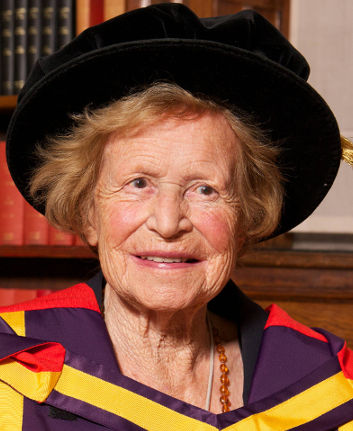 If you enjoyed this post, be sure to subscribe on our homepage to keep up to date with the latest posts from The Hub.
Words: Joe Shervin
Images: Wikimedia Commons (Sim0n), The University of Manchester
Related posts