The Buzz S2, E5: What can we learn from the Moon?
The Buzz podcast 27th May 2021
Listen on Spotify.
Listen on Stitcher.
Listen on Apple Podcasts.
It's one small step for (this) Man(chester)-based podcast… but a whole lot of fascinating info for our listeners, as we ask: what can we learn from the Moon?
We're over the *ahem* Moon to speak to not one but two(!) University of Manchester alumni who have forged stellar careers researching the Moon, its surface and its rocks: Natalie Curran, who joined NASA as a Postdoctoral Fellow at the NASA Goddard Space Flight Center, and Francesca McDonald, now a Moon Exploration Scientist with the European Space Agency.
Both progressed via the Department of Earth and Environmental Sciences at Manchester – Nat studying an MEarthSci in Geology and Planetary Science, and Fran starting on the BSc Geology course before changing to the MEarthSci integrated master's – and both went on to complete their PhDs here too.
Who better, therefore, to discuss the Moon and our relationship with it? We go back in time to analyse what we've already learnt from the satellite, and look ahead to predict what the future holds for Moon – and wider space – exploration.
So join us as we 'shoot for the Moon', and find out all about that big, mysterious ball in the sky…
Natalie Curran and Francesca McDonald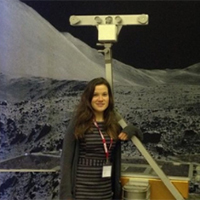 Find out more on some of the topics we discuss at the links below:
Earth and Environmental SciencesPhysics and AstronomySpaceWomen of STEM
Related posts