The Buzz S3, E2: What killed the dinosaurs?
Dinosaurs The Buzz podcast 26th May 2022
Listen on Spotify.
Listen on Stitcher.
Listen on Apple Podcasts.
It's a question we've asked for a (very) long time.
But could new evidence help us to finally – definitively – answer it? Just what did kill the dinosaurs?
Joining us to discuss this and more is Professor Phil Manning, who recently featured in a BBC documentary fronted by Sir David Attenborough exploring this incredible new evidence, and who is working at another extraordinary dinosaur excavation site in the US as part of the Mission Jurassic project.
In the episode we discuss the findings at Tanis, a spectacular dig site in North Dakota led by University of Manchester palaeontologist Robert DePalma, and talk all things dinosaurs: What were they? Are they still around today?
So dig out those headphones and let's unearth the secrets of the dinosaurs – and what led to their downfall…
Professor Phil Manning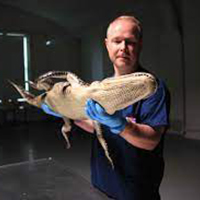 Find out more on some of the topics we discuss at the links below:
Related posts