Meet our alumni: work, travel and study with Natalia Jagielska
Student experience The next step 18th November 2019
Recent MEarthSci graduate Natalia Jagielska shared her experiences of job hunting, followed by travelling and working in China this summer, and progressing to postgraduate research in Edinburgh. 
We rarely revel in failures, focusing on achievements. But an achievement cannot be considered such without foundations – these being the failures.
I remember when November was rolling in, late 2018, and I, galvanised with the most employer-friendly CV, started to actively seek out a graduate position. Spending at least a day filling in an application for a position, staying up all night to get past the first standardised stage.
I was struggling with confidence at the time, but hoped that over 100 job letters would yield something. Weeks passed. One automated message. Bad luck. But then came another, and another and another. There's nothing more heart-breaking than sacrificing your entire three years to find yourself a decent placement, just to be greeted by the coldness of the seemingly random employment system. When other students started getting positions to which I had applied, I felt compelled to reach out. The advisor was baffled, and my supervisor stated his confidence in my abilities. I almost started putting a tinfoil hat on. My low self-esteem wasn't encouraged by daily passive dismissals and the Imposter Syndrome I developed just fed on the application responses.
"We're sorry to inform you …"
"Our company regrets that …"
"Pursuing other candidates"
"We appreciate your interest"
"Better luck next time."
I blamed myself, for I had cornered myself into an academic career while doing my Masters, which I felt uncertain about (or, was that the Impostor talking?). The best way of digging myself out was to jump into cold water and try to swim back up, for perspective and confidence. And the best way of doing that was to travel to the Orient.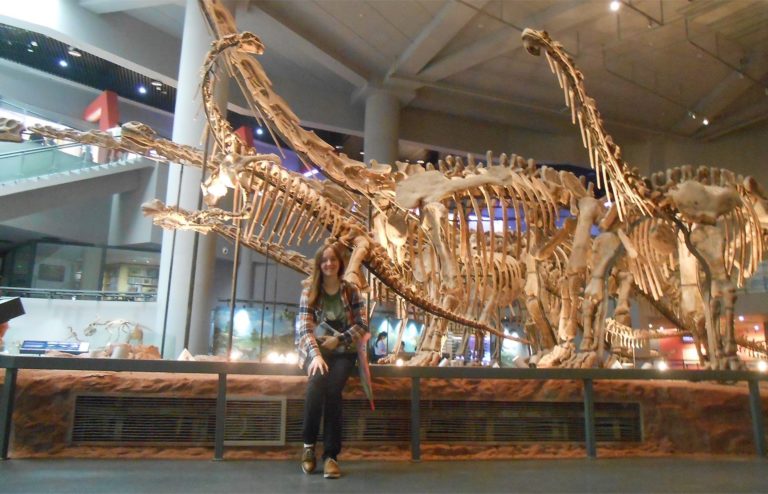 Middle Jurassic sauropods in Chongqing
China is a fascinating place, on course for becoming the single biggest economy worldwide, homing the oldest modern civilisation and undergoing extremely active social reworking. In terms of culture, the language and politics is the polar opposite to England. It was great place to get a perspective.
Relationships between China and Britain were never simple, exploding into open war just a few decades ago. And the scars of British colonial history are felt and seen still today – with the distribution of mega cities on Eastern coast and the turbulent state of Hong Kong right now. Despite this, China loves to trade and work with Britain, making applying for positions there comparatively straightforward. I applied for two positions with the British Council as part of the #GenerationUK initiative, working on introducing young graduates to the "Middle Kingdom". One involved work for two months in a city of choice, the second involved a month long university course. I got place for both opportunities. At the same time I also got numerous interviews for various doctorate programs and graduate schemes – from gig in Japan with AstraZeneca, to a three year position at BBC, and work at HMRC. I was unsuccessful with most, but in April I secured a really interesting paid doctorate course at Edinburgh University.
I accepted the doctorate position, surprised, as I've been regularly told they're rarely given out to fresh-out-of-university graduates. I wrapped up my integrated masters research, and less than a week after my last assignment, boarded a plane to Beijing.
I chose to work in Chengdu, which despite its historical importance is not very familiar to Western tourists. This 12-million population city is based at the feet of the Sichuan Himalayas, famous for homing tech start businesses and being the factory spot for companies like Apple, Intel or Ubisoft. It's the capital of the most productive region of China – Sichuan – known for yields of coal and oil (and spicy cuisine). It's an area fascinating geologically – for its nature brings the area wealth and misfortune. It's set in the Sichuan basin, which homes one of best sauropod fossil sites in the world (unrelated observation); and it is infamous for frequent earthquakes associated with Himalayan orogeny. I experienced shallow 6.0 with aftershocks myself while being there, and visited the memorial site of a school which collapsed on itself during the lethal 2008 earthquake, which flattened most of surrounding area. This was an eye opening experience – I wrote about the event as a case study for my A levels.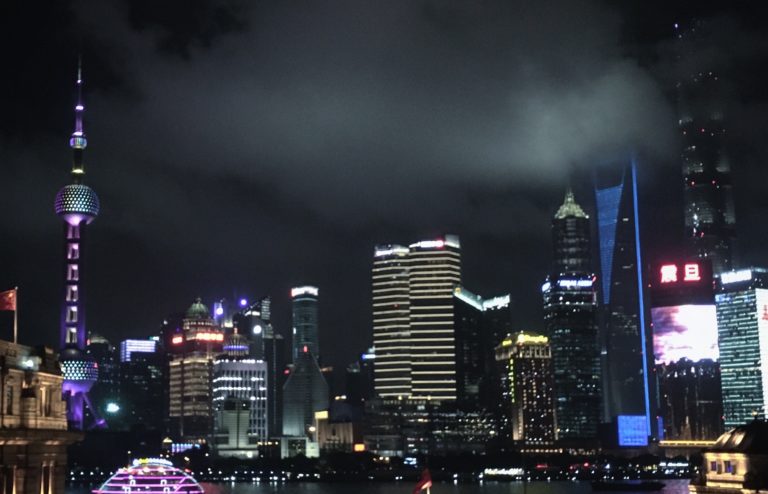 Shanghai skyline at night
I started working for a small environmental NGO, encouraging organic farming and biodiversity monitoring on neighbouring wetlands. This allowed me to explore the new face of Chinese agriculture and actively participate with local communities working on restabilising the environment in a country with breakneck demand for natural resources. Articles and photographs of this endeavour can be found on the site of the company. Sadly, the company was small and no one in the office could speak English – so the workload was sparse. I decided to ask for a job change – spending another month as a teacher of Science and Art at the LeMan International School with ICON Sports. As a part-time teacher in UK I felt at home, teaching kids about geology: earthquakes, evolution, dinosaurs, volcanoes and such. Sometime around that period I was supposed to attend my University of Manchester graduation ceremony.
Whilst teaching I managed to travel through the middle China region – climb the Chinese side of the Himalayan belt, go to a Panda conservation centre, visit China's ex-capital Chongqing and its wonderful Natural History Museum, attend a traditional Chinese opera and sip tea in the bamboo park. But the experience had to finish; I packed myself up and over 18 hours later was back in Manchester, repacking for another flight.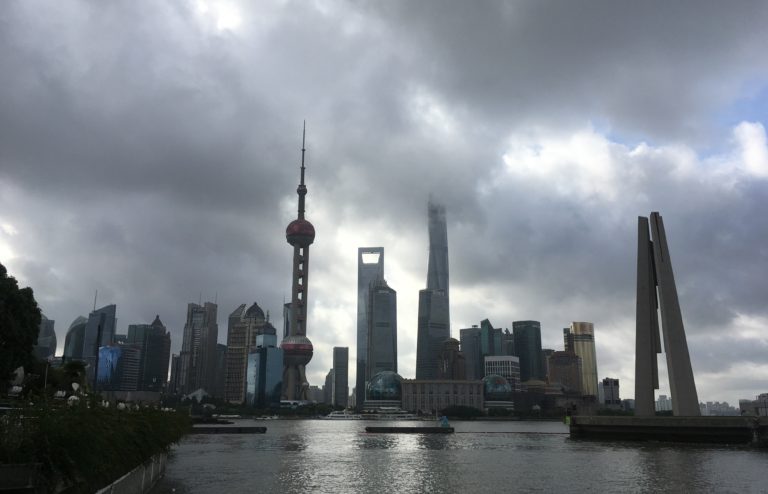 Shanghai Skyline in the morning
I then set off to Hangzhou, a tourist-heavy lakeside city which features heavily in Chinese mythology. Once a global centrepiece of trade, and the terminal end of the famous Silk Road. This opportunity was offered by the University of Manchester, and again, sponsored by British Council. It included language and culture lessons in a Chinese university of choice – I picked the reputable Zhejiang University, as it was in another province famous for fossils and just an hour away from Shanghai, a complex city I desperately wanted to visit.
Landing wasn't easy – as a series of devastating typhoons were occurring at the same time as our trans-European planes. Many flights were cancelled – but a select few allowed to go-ahead – I was one of the lucky ones.
The experience was packed from morning till late, learning how to speak (and sing) in Mandarin, with cultural exercises in the afternoon. These included boat trips, theatre, and museums to name but a few. The biggest highlight was a day out with a Chinese family, where we tasted very sweet local food, quite unlike that of the previous province. Over weekend I travelled to Shanghai- a city with an unbeatable skyline and European architecture demonstrating its colonial past and legacy of the British-led Opium War.
The city is unlike any in China – seeping with ancient Western influence, with jazz bars around the corners; flashing the Chinese luxury economy. The view from second tallest building in the world was stellar. Sitting and overlooking small barges and boats making their way to sea via the terminal tributary of Yangtze was almost hypnotic. I somehow managed to pass my Mandarin with distinction, and after a dance / singing competition headed quickly back home, as in less in a week I would start my new PhD programme at Edinburgh.
I slept off my jet lag, packed, and moved permanently to a country I always wanted to live in – Scotland. Into the bohemian city of Edinburgh. Edinburgh is a culturally lively city and I want to exploit its every facet. I'll spend another three (plus) years in this city, looking at Skye fossil material. Having worked in Skye before (for my University of Manchester BSc thesis), I really wanted to go back to the area. I can't say much about my project, but it will definitely put Scotland on the map when it comes to ancient reptile research (more than it currently is). It's really well preserved material of an ancient flying animal from a period of time that's currently a blank spot in the record. It's a big project with big boots to fill. And somehow I'm more cautious and worried than ever.
It's a NERC sponsored project – so over the past month I have managed to work as a demonstrator for undergrads and do some local fossil hunting with students.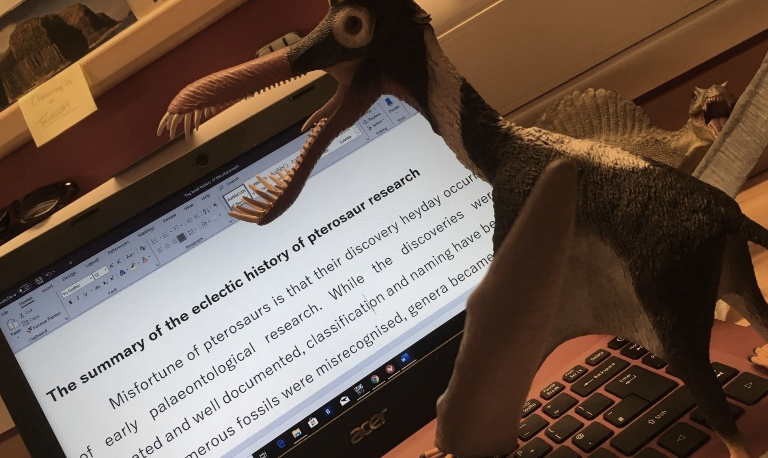 Working on PhD literature review
Four months have passed since my graduation from Manchester: I managed to study at three different universities, live under four different addresses and work at five different jobs. In many ways I should feel different, but university feels like university, and comparatively, nothing feels like it has really changed.
Follow my twitter (@WryCritic) on updates regarding my research project and see pictures from my Chinese adventure.
Feel free to ask me about the schemes I took part in.
Related posts