Blended learning insights: Emma Conway
Student experience 18th November 2020
Considering the bright side of blended learning, Earth and Environmental Sciences undergraduate Emma Conway discusses how it has been possible to adapt to difficult circumstances so far.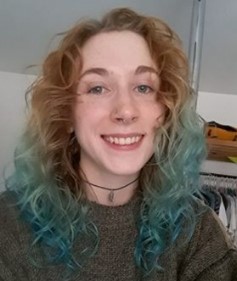 I'm Emma and currently I'm in my 3rd year of study of a MEarthSci Geology degree. Within geology I have been taking an interest in mantle chemistry and geophysics (mantle rocks are very beautiful). Outside of university I am interested in health and nutrition and like to keep in shape with pole fitness. In my room you will likely either catch me hoarding rock samples or upside down on my pole.
This year I have been working on my dissertation project: Assessing Lithological and Chemical Heterogeneity in the Oceanic Mantle. Usually this work would be based around a fieldtrip we go on for 6 weeks over summer, however due to Covid-19 coming along and rearranging everyone's lives, I have now been doing a project which is based mostly online. Although this is not what I initially had in mind, I am now loving what I'm doing for my dissertation and how I now have the opportunity to use new techniques in my work. I have been analysing electron microprobe data taken from ophiolite samples in Norway, which is something I never would have come across in my original project, yet I'm so glad I have (not to mention the added bonus of being able to do it all in the comfort of my own home).  I will also soon be looking at some photomicrographs of these samples to look at their textures and how this is relating to the chemical data I have been looking at—all very exciting!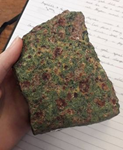 When online learning first began for me (late March 2020) everything felt very hectic and unorganised. In hindsight however, I think these feelings were mostly from the stress of lockdown being imposed and the uncertainty of what was going on at the time. Thankfully by the time it came to the online assessments I had to do in place of my practical work, things felt a lot more settled. The lecturers who were running these online assessments were very helpful with how they communicated to us through email and helped to reassure us not to put too much pressure on ourselves at the time.
Since starting the new academic year I've started to enjoy the blended learning a lot more. In particular I like having asynchronous lectures which allow me to go through content at my own pace, but then also having weekly Zoom sessions with lecturers to reconsolidate material and be able to ask any questions. This year lecturers have been very supportive in the sense that they understand we are all in the same boat and they are aware that this method of learning isn't ideal for the staff or the students. I have felt that they have been optimistic about our learning through this difficult period (especially with the added pressure of being in 3rd year) and because of this I would feel comfortable asking them for help and support if needed.
– Emma Conway
asynchronous lecturesBended learningGeologygeophysicshealth and nutritionmantle chemistrystudyundergraduate
Related posts