Meet our alumni: an interview with Patryk Tomaszewski
The next step 14th September 2020
We spoke to Engineering Geologist Patryk Tomaszewski to find out more about his undergraduate studies at Manchester and how they prepared him for his current role, which involves making enhancements to UK infrastructure including transport and energy projects. Patryk's job contributes to positive changes in our everyday lives and the world in which we live – find out how studying at degree level has led him to this fulfilling career.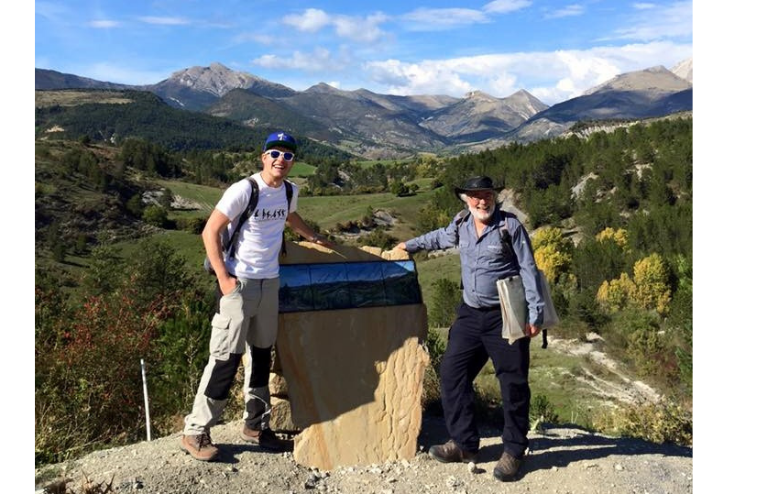 What A levels did you study?
I finished my time at the Oldham Sixth Form with A levels in Geology, Maths and Physics, and AS levels in Spanish and Chemistry. Geology was always meant to be my 'add-on' AS level to be dropped after the first year. However, it turned out to be the most enjoyable subject, and led to me studying Geology at university. I was fortunate enough to be able to study Geology at A Level, which is uncommon, but it was not a requirement to be admitted or to succeed at university.
Which degree programme(s) did you study at Manchester, and at what level?
At the University of Manchester I studied the 3-year Geology (BSc) course and graduated in 2017. Following that, I went on to study the Engineering Geology (MSc) at the University of Leeds. A similar undergraduate degree at Manchester would now be the BSc Earth and Planetary Science (Geology Pathway).
What is your current job title?
I am an Assistant Engineering Geologist, approaching the end of my second year of the graduate scheme at Atkins, in the Ground Engineering and Tunnelling team.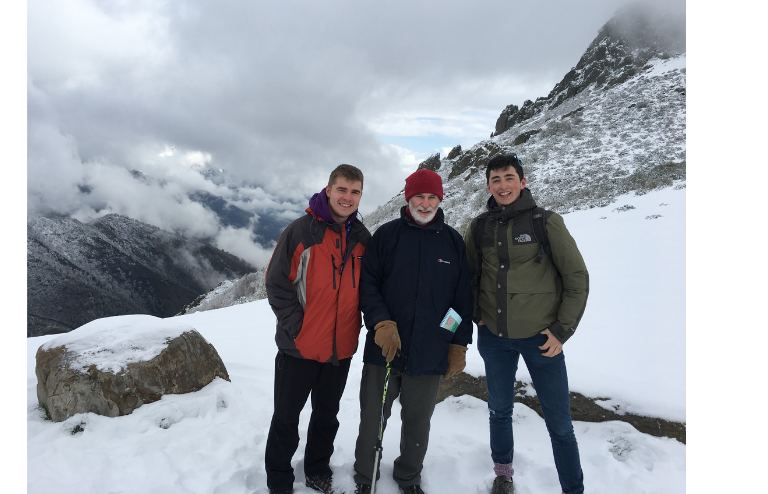 How did your studies prepare you for your current role as an Engineering Geologist? Is this a career you had intended to pursue for a long time, or is it something you discovered whilst studying?
When I began my studies, similar to many other prospective geologists at the time, I expected to work in oil & gas or mining after graduating. Over time, as these sectors were seemingly volatile and uncertain, I considered a path of staying in academia by doing a PhD, and eventually lecturing. I was not really aware of the ground engineering career path, until the summer after my second year, when I received an email from a recruiter in the middle of my independent mapping project in Southeast Spain. In third year I researched what the job entails, which MSc courses I should apply to and which companies recruit graduates to their ground engineering teams. Career events, such as the 'Meet the Professionals' evenings at the Williamson Building or British Geological Survey career and industry days, were great opportunities to ask such questions and find out as much as possible to make the best decision on which path to take.
Studying Earth Sciences was essential in allowing me to attain my MSc level education and later find employment. In addition to the general researching, report writing and numerical skills, practically every module that I studied comes into use at some point or another. Whether it is structural geology and British stratigraphy lessons from Stephen Covey-Crump and Julian Mecklenburgh, Sedimentary processes teachings from Merren Jones or general wisdom from my mapping supervisor Ernie Rutter, I find myself thinking back to my undergraduate days regularly.
The alternative path is to study Civil Engineering, in which the Geotechnical modules prepare you for work in this industry. However, whilst geologists can learn all the necessary equations, there are spatial tasks such as developing 3D ground models or geomorphological mapping, in which geologists will always excel and engineers will lag behind. Studying Earth Sciences additionally enables you to go on everybody's favourite field trips, which no other degree can match.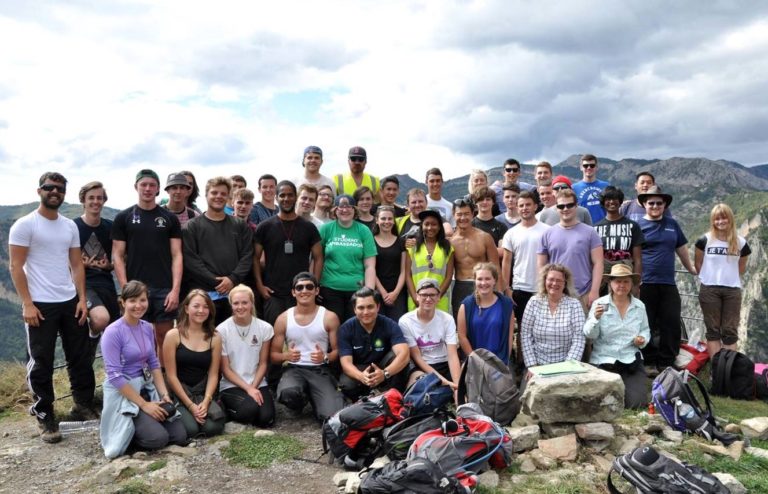 What experience did you need to secure your job?
Experience was not explicitly required to secure my job, but it is extremely valuable to have something relevant on your CV to show your interest. In the third year of my undergraduate degree, I applied for an Engineering Geology summer internship at Atkins in the Ground Engineering team. Unfortunately, I just missed out on a place at their Warrington or Leeds office. Determined not to give up, I inquired about alternative opportunities. Atkins offered me a two week unpaid work experience placement, which took place immediately after my final year exams. This ended up being the vital point in my professional life, as it allowed me to be fast-tracked through the recruitment process. I was invited to the first round of the assessment centres in November of my MSc year and soon after offered a graduate position. Apart from finding relevant industry experience, which can be very difficult and disheartening, it is important to fill your time with other activities during your time at the university. Joining a sports team or getting involved in the Geological Society will form great topics of conversation during your job interviews.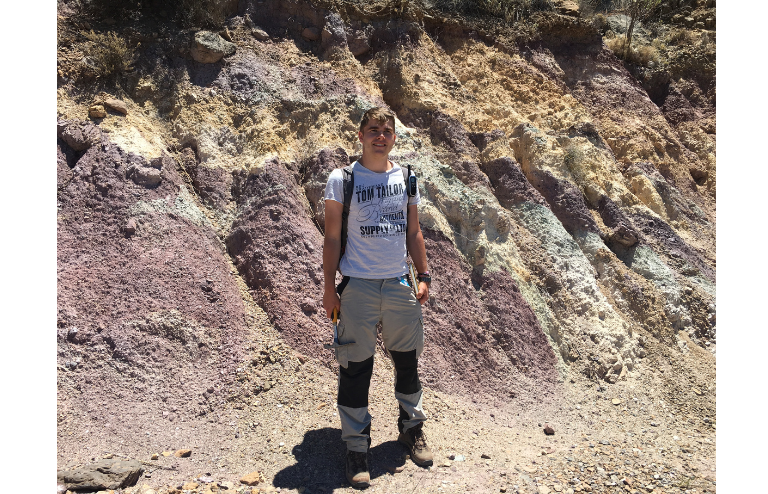 As this is your first job after graduation, what did you find challenging or different about working life when compared with student life?
Overall, I find the working life to be much less stressful than being a student. Not to take away from the fact that I absolutely loved my time at university. Work tends to finish at work and I have worry-free weekends, during which deadlines are not at the back of my mind. I find myself much more productive during the day, to ensure I get as much done as possible during the normal hours. Staying behind is rare and late nights are very few and far between. But when they do happen, you come to appreciate how university was great at preparing you for the working life, where if there is a deadline, it just has to be met.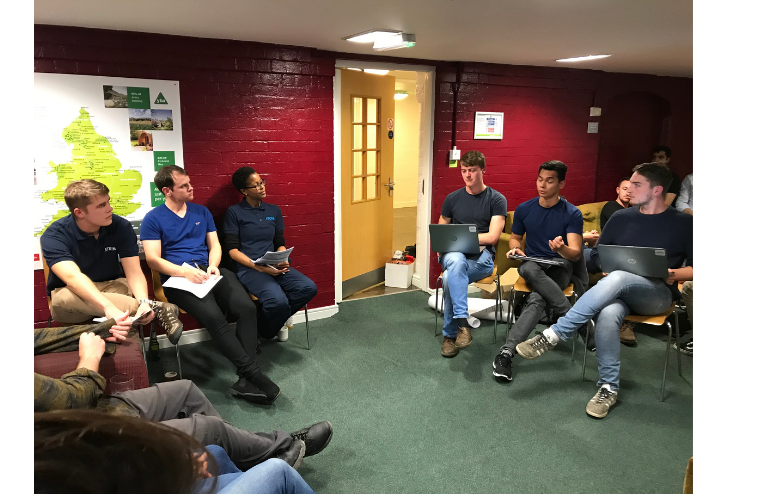 What is a typical day in the life of an Engineering Geologist?
Typical days vary greatly depending on what projects you are assigned to at a given time. It can involve looking at geological or historical maps and analysing geospatial data in GIS, as part of carrying out a desk study. It can consist of analysing historical borehole records and creating cross-sections or 3D ground models. You can be out on-site carrying out a site reconnaissance walk-over or supervising a ground investigation. Since joining Atkins, I have been exposed to a large variety of tasks and projects which have been extremely valuable for my development. I primarily worked on nuclear energy projects, carrying out numerical modelling for seismic and static soil-structure interaction studies. I also worked on a new highway scheme, which involved a lot of geotechnical design, such as slope stability analysis, settlement and ground improvement calculations, and pile design for integral bridge foundations.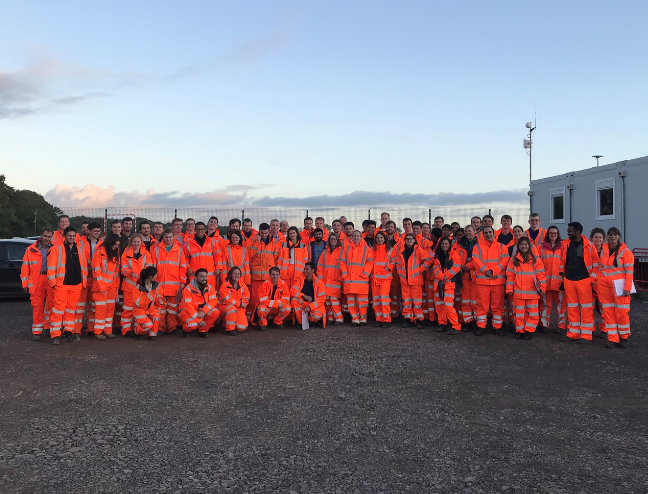 Do you travel widely as part of your work?
During my two years at Atkins, I have had opportunities to supervise a ground investigation on the Pembrokeshire Coast and carry out slope stability monitoring in the North Pennines. Additionally, as part of the graduate scheme at Atkins, you benefit from the Ground Engineering Academy set up to help you towards your chartership. As part of the annual field trips organised by the academy, I visited the Cairngorms National Park and the site of the A9 dualling project, and more recently, the High Speed 2 and East West Rail construction sites. There are also regular international project-related travel or secondment opportunities, and as you develop your skill set and gain experience the chances of getting involved increase.
What is the impact of your work?
My work directly contributes to improving the infrastructure of the UK, of which certain sectors such as rail are very outdated. The thought that projects I work on will serve people for the next 100 or more years is very fulfilling. Additionally, the high profile energy projects including nuclear new builds and off-shore wind farms, which Atkins is heavily involved in, are crucial in helping to ease the transition away from fossil fuels.
See Patryk's LinkedIn profile, the Atkins Ground Engineering and Tunnelling page and an overview of Atkins for more information on the work, jobs and topics discussed by Patryk.
3D modellingAtkinsenergy projectsengineering geologistgeospatial dataground investigationground modellinghighway schememapping projectnuclear energysedimentary processesseismic and static soil structureslope stabilitystratigraphystructural geologytransport
Related posts