The Environmental Impact of Covid-19
Student experience 11th February 2021
Jasmine Vallabh is a Student Ambassador and currently in her second year of a BSc Environmental Science degree. As a student taking the Ecology, Evolution and Conservation Biology pathway within this degree programme, naturally, Jasmine has been considering the environmental impact of Covid-19 and shares her thoughts with us in this blog post.
The world right now is in the midst of a global pandemic that has claimed the lives of millions. The news has been dominated by this, quite rightly, leading many people to believe that the current climate crisis is being pushed aside and buried. So how exactly has Covid-19 affected the climate? Has it helped the climate crisis or is it exacerbating it?
Many countries across the world enforced a temporary lockdown in an effort to curb the spread of the coronavirus, where citizens were forced to remain at home and non-essential businesses were forced to shut. This resulted in only essential journeys being undertaken and international air travel was close to annihilation. However, in terms of climate, there has been an unequivocal positive payoff. An improvement in nitrogen dioxide (NO2) levels has been noted globally, with the help of satellite imagery. Societies and industries coming to a standstill meant a reduction in fossil fuelled transport and a decrease in consumption of non-essential goods and services.  The shutdown of major industries had a knock-on effect on the haulage and logistics industry. In addition, the demand for energy dropped significantly as buildings, offices and schools were shut and shortages of food and consumables meant people were avoiding unnecessary waste. This will have caused a significant drop in CO2 levels which will vary depending on country and area. However, recent reports have revealed that in actual fact, the virus has done little to stop the rising levels of CO2. Figures show that in areas that underwent a full lockdown, energy demand decreased by 25% per week, whereas demand in areas under a partial lockdown decreased by 18% per week. This decrease in energy usage hit the energy sector very hard, especially the coal and oil industries.
The economic impact of Covid on the aviation industry has been catastrophic.  However, aircraft engines emit heat, noise, particulates, and gases. Like other emissions resulting from fossil fuel combustion, aircraft engines produce emissions and result in poorer air quality. The difference in NO2 concentrations from March to April 2019 compared with the same period in 2020 is highlighted in the satellite image below (Figure 1). Whilst air travel plays a part in producing pollutants, it is likely that the reduction in NO2 was mainly due to a reduction in ground traffic. Despite the reduction in nitrogen oxides, there have been apparent increases in ozone present in the air we breathe, particularly in urban areas.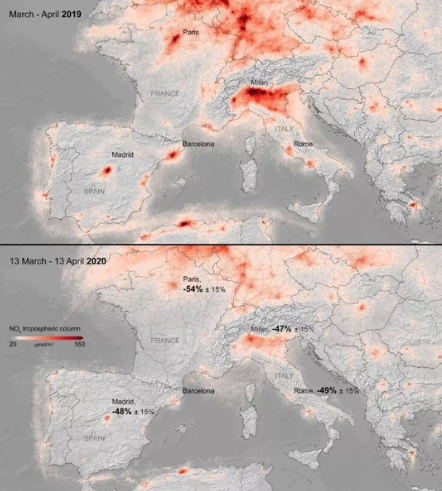 There has been a huge reduction in ambient noise from traffic and aircraft during the coronavirus lockdown meaning that birdsong has been more audible and noticeable.
Furthermore, the tourism industry has fallen victim to Covid-19 but it has brought about a reduction in human pressure on the environment. There has been an evident drop in pollution of natural tourist attractions such as beaches, mountainous areas, lakes and forests. For example, less litter and noise pollution. This reduction of tourists has had a large impact on the wildlife. In Thailand, monkeys resorted to swarming urbanised towns in hopes of finding food necessary for survival where they previously relied on tourists.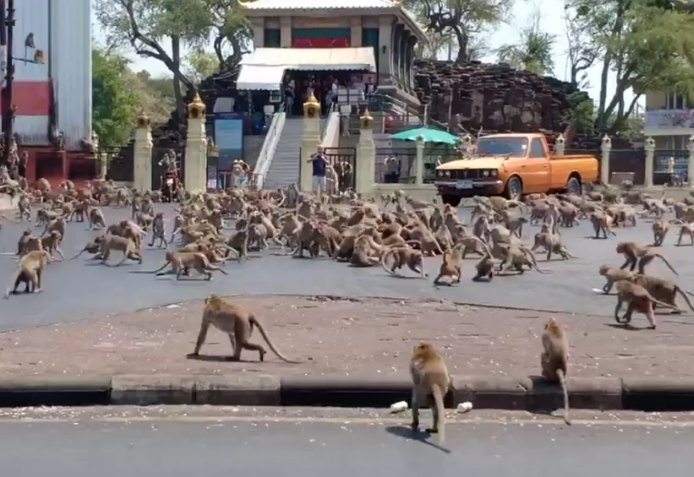 Coronavirus is also contributing to a rise in plastic pollution, and non-recyclable waste ends up in either landfill sites or the oceans. Face coverings have become mandatory in an increasing number of countries and more people outside the medical profession choose to wear disposable gloves. Many people choose to wear disposable items for convenience so when worn once, they are thrown away and end up in landfill sites. This results in a single person using many masks and gloves over the course of the month, so with thousands doing the same it's hard to fathom exactly how many there are in refuse sites at this moment in time. In addition, a rise in citizens using online shopping and home delivery methods for shopping has greatly increased the amount of inorganic waste produced. If any of it ends up in the ocean, masks, gloves and other rubbish can injure and potentially result in the deaths of sea creatures, just like we have seen in the past with plastic bags.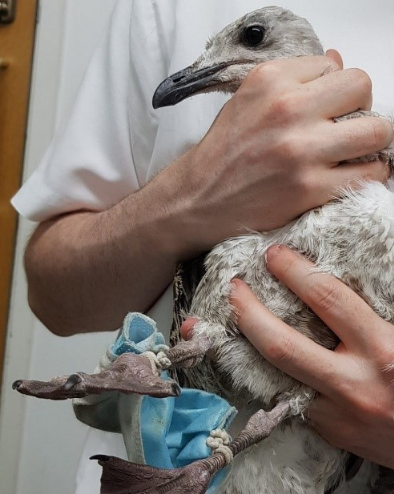 In Brazil, illegal loggers are taking advantage of the lack of attention placed on them and are intent on clearing more of the Amazon Rainforest. When vegetation is set alight, this not only contributes to global warming and the climate crisis, but it has negative impacts on the health of local indigenous tribes. The smoke from the air combined with the virus can have detrimental effects on the lungs resulting in an disproportionate number of deaths among these groups. Unfortunately, Covid-19 has only exacerbated this issue.
The pattern seems to be that in the midst of the pandemic, the effects on the environment appear to be positive. However, long after the pandemic is over and life continues as normal, the world will still be feeling the effects and negative impacts including an increase of waste in oceans. Whilst the number of deaths during the pandemic are very high, it is likely that deaths resulting from climate change in the future will be even higher due to an increase in natural disasters including wildfires, sea level rise and hurricanes.
By destroying and displacing wildlife, inevitably it will lead to closer contact with humans and fleeing wildlife. To be more explicit, if you are trapping displaced animals for personal gain e.g. commercial reasons, you are exposing yourself and others to this potential pathogen carrying animal, increasing the risk of further infectious disease outbreaks. These animals could potentially seek refuge in urbanised areas thus exposing an even greater number of humans.
Covid-19 will certainly not be the last zoonotic infectious disease.
More information about the topics discussed by Jasmine, particularly relating to air quality, can be found at the Manchester Environmental Research Institute – The University of Manchester, the Manchester Air Quality Super Site (Centre for Atmospheric Science – The University of Manchester and Traffic pollution drops in lockdown – but other risks to air quality increase, reveal Manchester researchers
air qualityclimate changedisplacing wildlifen02natural disasterspandemicplastic pollutiontourismzoonotic disease
Related posts