Volunteering: growing plants and growing as a person
Student experience 4th May 2021
In this blog post, MPhil student Klaudia Jedyka considers how volunteering with Platt Fields Market Garden has been a fruitful endeavour, from helping the community, to supplementing and applying knowledge gained from her degree, to paid work and personal growth.
Rachel Carson's influential book, Silent Spring, exposed the devastating impacts of pesticide use in 20th Century US. It is this book, suggested as recommended reading in the first year of my Environmental Science degree, that inspired me to pursue the areas of soil health and sustainable agriculture throughout my course. Naturally, getting involved with a local community garden was the next step and thankfully, on a walk around Platt Fields park I saw a sign (literally) presenting this opportunity for me – Platt Fields Market Garden (PFMG) was looking for volunteers! The garden had been active since 2017, set up on an unused bowling green, so it is a surprise that I never noticed it before. This organic market garden was actually looking to recruit volunteer coordinators at the time, allowing me to get quite involved with the space early on in my time there.
The garden is an urban oasis for me. I'm not the biggest fan of city living, so being part of an outdoor space exploding with wildflowers and bugs, surrounded by bird song, is really special. The garden is also a very welcoming space, where every new person is instantly a new friend, connected by the desire to enjoy nature. It is a hub for like-minded people, both those full of knowledge and those new to gardening and curious – everyone has something to offer. My confidence has increased through my volunteering, now easily conversing with strangers and even leading workshops, which are things I used to stay away from. And of course, I have learned a great amount. From every weed, wildflower and herb to woodworking and clay making workshops, the garden is a wealth of knowledge to be discovered. We share the space with Gaskell Garden Project, who have a permaculture corner on the site, displaying an organic form of growing food that is different to the market-scale, more intense growing at PFMG. Next to the garden is an orchard, filled with apples and pears, ready for a communal apple-pressing and cider making event each year. The garden has also introduced me to gleaning, the practice of coming out to farmers' fields to collect surplus produce. This is a unique opportunity to see where food actually comes from, and a reminder that it does not simply appear on our shelves.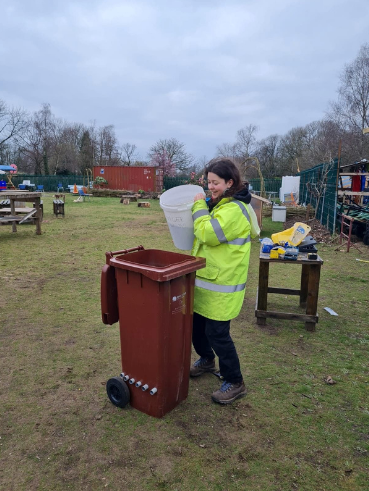 Due to my involvement with the garden, I get to be in contact with the soil, to watch soil bugs crawl around, to put theory into practice and build soil health on this small urban farm. This is such an amazing opportunity to observe what I was taught at university. I also get a chance to teach others what I know, making the world beneath our feet less mysterious. I have led composting workshops, a talk on soil science for gardeners, set up a wormery and I am looking into more soil health enhancing methods, such as Bokashi composting and Natural Korean Farming. With the boom of online seminars during the COVID-19 lockdown, I worked with numerous organisations around Manchester to deliver composting seminars, teaching folks the theory behind what happens during the composting process and improving my science communication skills. This brings me to another point. My long-term involvement with the garden led to paid work, including the seminars but also working on our new café stall and other gardening projects. This is something I was not expecting but it certainly has been welcome. In addition, my CV now clearly displays my passion for soil health and sustainable agriculture.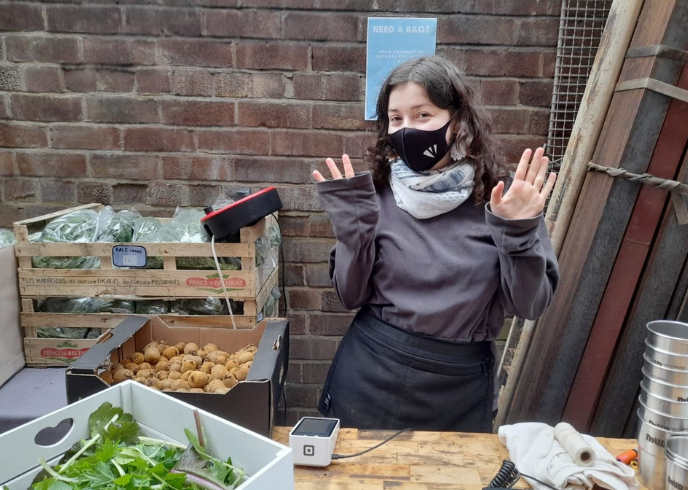 Two years since I popped in for my first volunteer session, I am now studying an MPhil in Soil Ecology (surprise) and I am still involved with the garden. It has been an absolute pleasure to watch it grow. Observing the potentials of urban agriculture has actually led me to a new interest in food policy, an area I know little about as a scientist. If you couldn't tell already, volunteering at the garden has been a very fruitful endeavour for me in almost every aspect of my life. If you are a student, you are blessed with a lot of freedom with how you structure your work week, and I definitely recommend spending some of that time volunteering with a project you care about. Manchester is brimming with people trying to make the world a better place, why not lend a hand?
Klaudia is studying an MPhil in Soil Ecology and her project title is 'The functional importance of plant-fungal interactions in agri-ecosystems'.
communitycompostingEnvironmental Sciencefood policygardeninggleaningpermaculturesilent springsoil ecologysoil healthsoil sciencesustainable agricultureurban agriculturevolunteeringwormery
Related posts