International Student Profile: Jiangnan Li, China
International student profiles 8th October 2019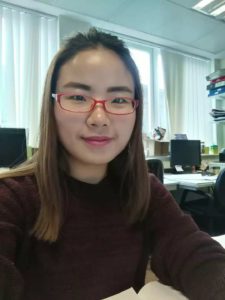 Jiangnan Li is a second year PhD student from China.  Professor Martin Schröder and Dr Sihai Yang are supervising her PhD project "Exploration of new robust porous materials for gas separation."
Please give a brief summary of your PhD project.
We study a wide range of porous materials based upon metal-organic coordination complexes, oxides, phosphates, borates and polymers. My project is mainly about the development of novel functional porous materials for the application of gas separation. For example, Nitrogen dioxide, as a fateful toxic gas, hammers the development materials. Searching a robust material for the storage and remove of NO­2 is necessary and urgent.
What did you do before undertaking your PhD?
Before this I got my bachelor degree in pharmacy from Shandong University and Master degree in medicinal chemistry from Tianjin University.
Why did you decide to undertake a postgraduate course?
My passion for chemistry, determination and positive attitude lead me to the conclusion that a PhD. project will both excite me and satisfy my thirst for knowledge. My objective is to acquire further advanced knowledge and keep myself abreast with the latest developments in chemistry.
Why did you choose your degree/project/supervisor?
Metal-organic framework is one of excellent materials which is powerful in all kinds of application. And Prof. Martin Schröder and Dr Sihai Yang are very famous and experienced researchers in the MOF area.
Why did you choose Manchester?
The University of Manchester is a world-leading university. There are lot of excellent researchers and good instruments, which is helpful for my study.
What do you think of your PhD so far?  What do you enjoy?
This is my second year. When I finished my first year I got quite a lot skills, experience and knowledge. The project is interesting and helps my development as an independent researcher.
What are facilities and resources like in the Faculty?
The instruments in The Department of Chemistry are enough for basic study. There is the world best XRD.
What do you like about the city of Manchester?
There are a lot of international students.
Related posts