Meet the Chemistry Academics 22nd and 23rd July 2020: An event run by UoM ChemSoc and Chemistry PASS
Meet the Department Research and impact Student experience Welcome to Chemistry 31st August 2020
Following the outbreak of the pandemic, it seemed as though the world came to a grinding halt, but the Chemistry Society made sure to resurface right on time. The society is run by a number of students from across different years and it is open to anybody with the slightest interest in Chemistry! This year we plan to host a number of events (mostly virtual due to the situation surrounding us) and we will be partnering up with Chemistry PASS for many of these.
Our first event of the year, "Meet the Chemistry Academics 2020", took place on the 22nd and 23rd of July, 2020 in collaboration with Chemistry PASS. The two-day event was hosted on a virtual platform where eight scholars from across the Department of Chemistry at the University of Manchester shared their research and gave us an insight on what's happening on the forefront of their respective fields.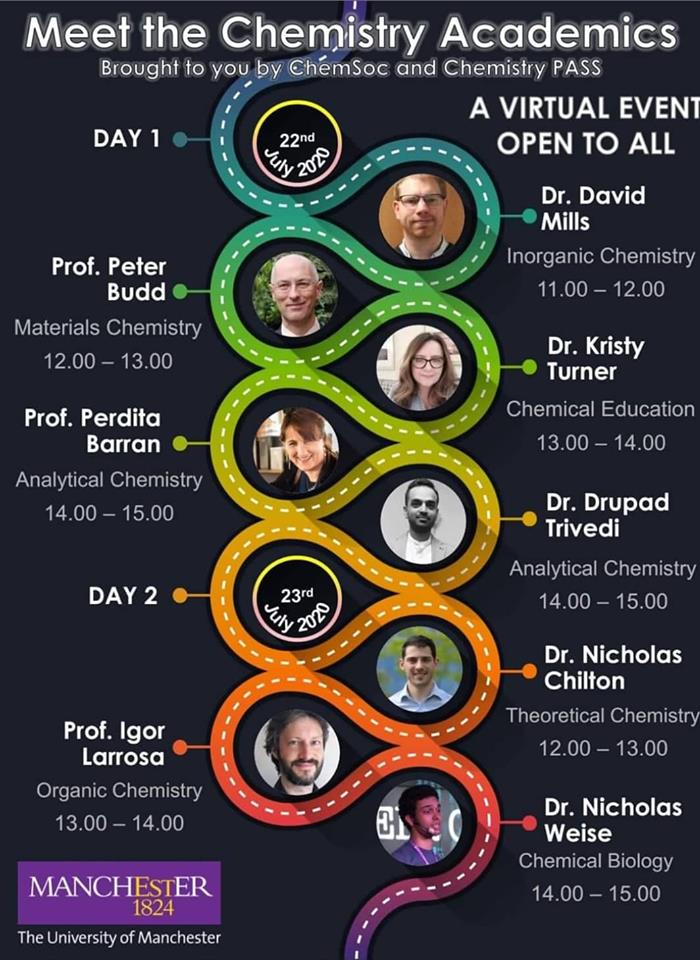 Day one
To kick off the event, we had with us Dr. David Mills who shed some light on Single Molecule Magnets for high density data storage devices. Following which, we had Professor Peter Budd speaking to us about his research which involved polymers that soak up little molecules, graphene and other 2-D materials, and membranes that allow certain molecules to pass through. We also had Dr. Drupad Trivedi and Professor Perdita Barran, both experts in the field of Analytical Chemistry tell us about how they have been working in metabolomics and chemometrics, and with sebum biomarkers to find a cure for Parkinson's Disease! To conclude the day, we had Dr. Kristy Turner talking to us about her braided career where she juggles working as a part-time lecturer, teacher, and a science writer.
Day two
Day two of the event began with an academic with a background in Theoretical Chemistry – Dr. Nick Chilton, who elaborated on Single Molecule Magnets and how to make them. Igor Larrosa, a Professor of Organic Chemistry then introduced us to organic molecules and how they are synthesized. He also gave us the run down on his research which explores advanced topics like Organic Chemistry, Synthetic Methodology, Carbon-Hydrogen Bond Activation, and Transition Metal Catalysis. Last but by no means least, Dr. Nicholas Weise chatted with us about his unequivocal passion for chemistry outreach and wrapped up the talk with his area of research – biological chemistry. His study primarily focuses on enzymes, biocatalysis and industrial biotechnology.
The event was open to all students and scientists right from the Advanced level at schools to PhD researchers. Much to our surprise, we received a whopping 400+ registrations from almost 16 different countries spanning across the globe and every single talk had over a hundred participants! In addition, each academic was welcomed with great gusto and their area of research sparked immense interest amongst our participants which fuelled them to ask several intriguing questions during the Q&A part of the session.

Gearing up for the new academic year…
On the whole, the overwhelming feedback that we received for this event has got us even more delighted and geared up for the upcoming academic year. We are really looking forward to collaborating with the Department of Chemistry, other academic societies, and the UoM Students' Union this year to host many more exciting events in the near future. We will be frequently posting online about all our ongoing activities so to stay tuned, make sure to follow us on all our social media pages.
Facebook: UoM ChemSoc
Twitter: @ChemSocUoM
Instagram: @chemsocuom
To find out more and view the talks, take a look on the Chemistry PASS YouTube channel: https://www.youtube.com/channel/UClcqYP_kXpYDg8tUa3kGrDA
Related posts