At the Design, Fashion, and Business Degree Show
Welcome to Materials 29th May 2015
I was here for the Design, Fashion, and Business Degree show. What I found within these walls was a vibrant and informative event, filled with interesting people who were well and truly excited by the projects they'd put together here in the School of Materials. What I also found was a group of people who already knew where they'd be next year, a group of people whose successes at undergraduate level had led to exciting opportunities in all sorts of places.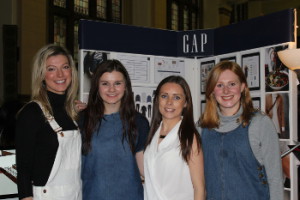 There was Charlotte Lowther, whose final year work has led to a two-year graduate scheme with Tommy Hilfiger and Calvin Klein starting in September. Oh, and it's in Amsterdam. She'll be getting involved in customer relations management, business development, and Ecommerce. So not only will she be living in one of Europe's most exciting cities, she'll also be setting herself up for a fantastic career.
Then there was Alice Starkey. Along with her team, Alice has been busy establishing MIMU Official – an ethically sourced bobble hat and accessories company that began as a final year project. Now, their goods are flying off the shelves. Even before their final year is officially over, they're already showing how successful they can be. Alice also has some exciting times coming on a personal level. In the next few months she'll be setting off to India for a Make in India cultural placement with the British Council, before beginning work as a Buyers Admin Assistant at Arcadia.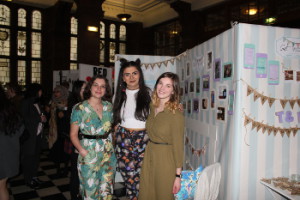 Other highlights including meeting Amy Nicholson and her friends at the Thrifty and Fair stall. They've been creating bunting from sustainable materials, something we'll be learning more about in a later blog post. We also chatted to Sonia Sumal and her team about their wonderful Ape Cases project, and learnt all about Stephanie Smith's thermos chronic ink designs.
DesignFashionMaterialsSchool of MaterialsUndergraduateUniversity of Manchester
Related posts