#MondayMaterials Episode 1 – Dr Aravind Vijayaraghavan
Meet the Department 8th June 2015
Hello everyone, and welcome to the first episode of #MondayMaterials. Once a fortnight, on a Monday (obviously), I'll be chatting with one of the many people that make the School of Materials such a great place to be. It might be a professor, a researcher, a student, an alumnus, or a member of the admin staff. Whoever it is, I'll be finding out what makes them tick and how they got to where they are today.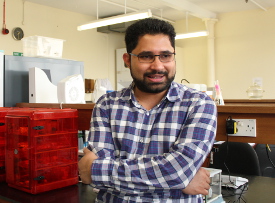 As you can probably imagine, my first few weeks have featured a lot of meetings. It's been great getting out there and introducing myself to people, but some of these gatherings have obviously been more useful than others.
One of the most useful, and most interesting, was with Dr Aravind Vijayaraghavan. Aravind has a lot of responsibility for the web presence in the School, so it was great to meet him and share some ideas. More importantly, though, he is also doing some fascinating research into one of the world's most exciting materials. I found out more in the chat below:
Hi Aravind. We'll start with a nice easy one! Can you please explain your research, for the layman, in ten sentences or less?
My research basically covers graphene and related materials. In my lab we make graphene using different methods; we then modify it depending on what we want to do with it and then we explore its properties.
We do a lot of characterisation techniques on the graphene to study its properties and then we incorporate it into lots of different applications.
We do sensors, composite materials, biomedical applications; so it's actually quite a broad range of different applications for the graphene.
How could your research benefit the general public?
Well, different aspects of my research have high significance for societal impact.
For example, the biomedical work. It might be quite long term, but actually, things like treatments for cancer and regenerative medicine; obviously if you can regrow your nerve cells, or things like that, it will have a great impact on society.
Medical applications, as you can imagine, will be a very long term proposition. You're not likely to see anything actually being put to use for the next ten years at least. But it has the potential to have a lot of impact.
Also, things like sensors for example – there could be a range of applications for sensors.
From industrial applications like detecting chemicals and gases, or defence applications like protecting the soldiers or for use on aircrafts and submarines:  there's a broad range of uses for sensors as well.
Can I ask how you first got interested in your research area?
I have been working on carbon nanomaterials for a long time. I first got into researching carbon nanotubes, which are a rolled up form of graphene, when I started my PhD.
So since then I've been working on this. I worked for the first ten or so years on carbon nanotubes and then when graphene came along I slowly transitioned into applying the things that I'd learnt in carbon nanotubes to carry on research with graphene.
So that's how I got into working with graphene. And now it's become not just graphene, but other two-dimensional materials as well. My research has progressed on and I am now also looking at all sorts of other similar materials.
Who or what has been your biggest inspiration?
I think my biggest inspiration came from my PhD supervisor.
He was a very exciting, very innovative, very creative kind of person. He was also a very good supervisor who gave me the freedom to think on my own and do things on my own. We had a very friendly environment within the labs; very dynamic and interactive.
All of this gave me a very good experience during my PhD and that encouraged me to stay on in research and go on to be an academic.
Could you tell us a little bit about your interests outside of work?
Well there's a bunch of different things really. I play football when I can. I like watching telly. I really like to travel, too. Fortunately this job allows me to do a lot of that.
How has working here in Manchester benefited your research?
I mean, it goes without saying that if you're doing graphene research and you're in Manchester there are all kind of benefits.
You're working not only with the two Nobel Laureates, but also probably twenty other world leaders in the field of graphene – each person with their own area of expertise.
Because of the collaborative atmosphere that is at the University, it allows me to interact with lots of different people, establish new collaborations with people who might not be doing graphene, and tap into all the different areas of research at the University.
It's a very, very collaborative atmosphere that has really benefited me. Plus, all the existing graphene expertise and the amazing facilities – especially at the Graphene Institute, the cleanroom facilities are absolutely amazing. So it's a combination of all of these different things, really.
Thank you, Aravind! And thanks everyone for reading. I thought Aravind would be a great person to start this series with and I wasn't wrong.
Graphene has been a buzzword at Manchester for a while now, and it's great to get a bit of an inside scoop and see what it's all about.
Make sure to come back in two weeks, when the #MondayMaterials series will continue with PhD researcher Sophie Miell. She's doing some fascinating research, so don't miss it! And in the meantime, keep an eye out for more from the School of Materials blog.
BiomedicalGrapheneNanomaterialsPhDResearchSchool of MaterialsSensorsUniversity of Manchester
Related posts