The past few weeks have been jam-packed with all sorts. From coursework and mid-terms to food fairs and meeting cool people. I am embracing the chance to wind down before the second round of courseworks appear.
A few friends and I attended a recording of Countdown – an event arranged by MathSoc –  in Media City, Salford. I really wanted to go to the same event in second year but I didn't manage to. On the seats, there were little pads of paper and pens so we could play along. It was really good fun and I am glad I managed to get a ticket! It was so cool to see how the show is made and to see Rachel Riley in the flesh, and we even got a photo with her! I wish I could say I was a good as Rachel when it comes to Maths, but that would be lying. Maybe one day!
Lately, I have been exploring food and really looking into what I am eating. To help with this, I decided to attend a vegan food fair put on by the Vegetarian and Vegan Society at university. It was all free and they put out a variety of food for people to try. Making changes to your diet, especially as a student, isn't always easy. But it's so great that there are so many societies, like this one, to suit all! The food fair made it really simple to try some new foods and gain some information. There was such a range of different recipe leaflets! As a side note, I also tried the beanie pitta at Nando's. Some people might find it odd to go to Nando's and not eat chicken, but they have some really great alternatives!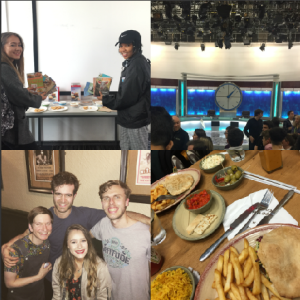 A few weeks ago, I went to a 'gig' in the Northern Quarter. I have previously blogged about my love for poetry and, mathematician/poet/cool-guy, Harry Baker. Harry Baker is part of a duo that makes 'The Harry and Chris Show' and they are touring with another artist who goes by the name of 'Gecko'. It was held in a teeny tiny pub with a small audience and was a few hours long. I was absolutely in my element. They performed some poems I already knew and also some new ones. It was a great night and something a bit different, too. No one I know was really interested in going. So, it goes to show that doing your own thing can be a really good idea since it was such a greaaaat night.
Easter break is coming up! Which will, no doubt, be full of studying and a little fun. For now, I shall be hitting the books to meet my next few deadlines!
Katie