#ChemEngCatchUp Episode 1 – Dr James Winterburn
Meet the Department 27th November 2015
Afternoon all, and thanks for joining me for the very first episode of #ChemEngCatchUp. This will be a monthly series in which I chat to the School's researchers, alumni, and students, to further communicate the story of chemical engineering and analytical sciences at The University of Manchester. You can expect to hear from the series on the final Friday of every month.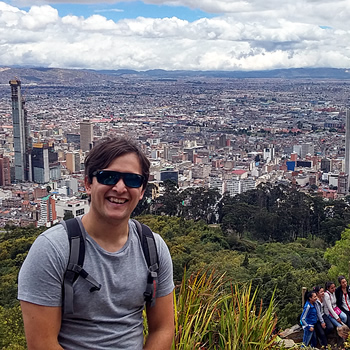 I first spoke to Dr James Winterburn after watching his talk at one of the University's open days. I was still fairly new in my role then, and having just begun to work on the School of Chemical Engineering and Analytical Sciences' digital presence, I have to admit that my knowledge of their subjects was minimal. James's talk was called 'What is Chemical Engineering?' While it may have been aimed at the teenagers considering whether or not to come and study here in Manchester, it gave me a good grounding in the topic which has helped me immensely as I've progressed in my role. So cheers for that, James!
Chatting after his talk, we batted a few ideas around, and I mentioned the blog that I was planning. He showed an interest, even at such an early stage. I decided back then that he should be the first person I interviewed for the blog, and just a few months later here we are:
Hi James. Thanks so much for chatting to us. We'll start with a nice easy one: can you please describe your research, for the layman, in ten sentences or less?
Sure, so my research is all about making chemicals that we currently get from oil using microorganisms – using living cells.
There are lots of different microorganisms that nature's designed that make plastics, surfactants (the molecules that are in cleaning products), and a whole range of other things. My research is all about how we can take these things that nature's designed, improve on them, and design processes to actually exploit them. A lot of that involves what we call fermentation, but rather than brewing, or making bread or cheese, we're making plastics, say.
To do that we really have to design processes. And really, as a chemical engineer, it comes down to how we can get the cells to make the products more efficiently – so make more of them – and then how we can separate out what we've made.
So that's the key challenge, actually. So when we've made our product, our plastic that we're interested in, there's a whole host of other things around that which we have to pick the plastic out from. We get rid of everything else, reuse it, and then we can purify and have the plastic that we need, say.
And in what ways does your research benefit the general public?          
The main benefit of my research is all to do with producing chemicals that we need sustainably.
So at the minute we get a lot of our chemicals from oil, and we're very dependent on oil. And in the future we need to reduce our dependency on oil. So my research is all about making these chemicals, but using microorganisms. So it's an alternative route to these chemicals using living cells.
And in doing that we can also use renewable things, or waste, to actually feed to the cells – these microorganisms – to produce the chemicals we need.
So as an example, we might take orange peel. So if there's a juice manufacturer and they make lots of orange juice, we might be able to take that orange peel, extract sugar from it, and then feed that to the cells so tat they will make plastic for us, say. So what we're doing there, as chemical engineers, is we're designing processes to transform waste into useful products, reducing our dependency on oil, and we're adding value. We're taking waste that the juice manufacturer, in this case, probably has to pay to dispose of, and turning that into something that people need and will pay for. So we add value to that orange peel waste, in this instance.
Thanks, James – fascinating stuff. Can you tell us how you first got interested in this research area?
So my interest in my research area, in industrial biotechnology and fermentation processes, really started with my PhD actually.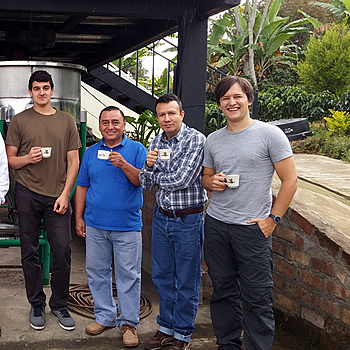 When I was finishing my undergraduate degree I did a research dissertation as part of my fourth year project. I really enjoyed doing research – the excitement and the idea that you were kind of trying to find something new, trying to understand things that people hadn't understood fully before, or find new ways of looking at problems and, really, new solutions to these problems.
So when it came to my PhD, that's when I started paying interest into biological processes. And then I really understood that there's this whole host of things already out there that we can exploit: these microorganisms that we could exploit to make chemicals if we had efficient processes.
Now that's sort of carried on, and now I'm really interested in not only designing the process to utilise these microorganisms that already exist, but also collaborating and working with people who can actually engineer and modify and change what the microorganisms will do, as well.
Going back a little further, then, is there anyone or anything that first inspired your interest in science and engineering?
Yeah, so I think the way I kind of got into engineering, and becoming an academic in chemical engineering, involved a lot of luck. Some conscious decisions as well, but really it was sort of a random path that ended up in the right place. I think I'm in the right place for me, and that's because what I always had was curiosity.
So when I was younger I'd get a new toy, I remember my dad bought me a remote control car once – I'd pestered him for ages – and I got it and within about an hour I'd taken it to bits. And then I couldn't put it back together again. So I had this curiosity about how do things work – I always wanted to understand how things worked. And that's really what I carried with me as I got a bit older.
I had a next door neighbour who used to repair little two-step petrol lawnmowers for people who had them and I started helping him. Taking these lawnmowers to bits and cleaning them up and fixing them again. And then, as my education carried on, I got more interested in sort of understanding these things on a more fundamental level – so, how can I use the maths that I know to describe these things? And really that carried on through.
There wasn't, I don't think, one person or one teacher that inspired me to do that. But I think it was that natural curiosity and that process carrying on.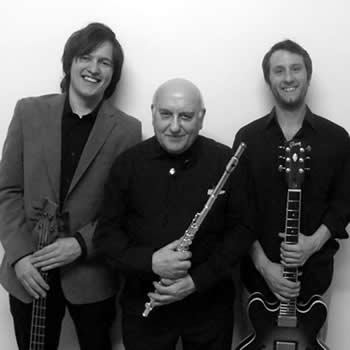 And what about your interests outside of work? What do you get up to in your spare time?
Okay, outside of work I do a few different things really.
I think my main interest is music. So I play bass, mainly in a big band – a jazz orchestra. I play in an eighteen piece jazz orchestra. We rehearse once a week and we have gigs every so often. And that's probably the… well; music's the main thing I do.
So I have a trio, as well. We do various gigs here and there. And that's great because it's a total detachment from what I do in academia. Music and playing in a big band, it's all about sight reading, so it's a very involving process. But it's a totally different type of challenge to the intellectual challenge I deal with every day. So for me, that's a release.
And I have a whole group of people who really aren't anything to do with my work. And that again kind of gets you out and I find it very relaxing. So even on a Tuesday when I have big band and I have to rush from work and go back home to Warrington and I have to get to rehearsal – when I get there it's relaxing and it's a release.
So music's the big thing, really!
Sounds exciting, James – and I'm loving the photo. Okay, then. We'll move back to work for the final question. Could you tell us how being here in Manchester has helped your work and research?
So I think, actually, that I'm slightly unusual in that my whole research career has been here at Manchester. So I came here for my PhD and what attracted me here was the project I had. And also the facilities and the research environment. And, outside of the University, the city itself.
So is stayed here for my PhD, I did a post-doc here, and then I've got my lectureship, my permanent academic position here.
I think for me it's a combination of the facilities, the research environment, and most importantly, actually, the people. I find the University a very friendly, very engaging place to work. It's full of interesting people. And that's probably true of a lot of universities, but I think especially the community feeling in Manchester, and how friendly my colleagues are, is really what has kept me here.
I guess I'm comfortable here, but comfortable in a good way. Comfortable in a way that allows me to get on with my research and be happy and really thoroughly enjoy what I do, which I think is the key thing to doing research.
Well, what a hugely positive note to end on. It's great to hear one of our researchers talk in such glowing terms about their time in the School and the University.
Thanks a lot for taking part in the first #ChemEngCatchUp, James – it was really great to get such a fascinating insight into the work you do here.
And to all the readers, thank you for joining us. In around a month's time, the #ChemEngCatchUp will return with Dr Thomas Vetter. And, if that just seems like too long to wait, there will be plenty of other posts on the blog to keep you going in the interval!
See you all soon.
Chemical EngineeringFermentationIndustrial BiotechnlogyJazzMicroorganismsMusicOilSustainabilityThe University of Manchester
Related posts