Project Management in action: rapid PPE testing during the Covid-19 crisis
In the real world Meet MACE Research and impact 20th May 2020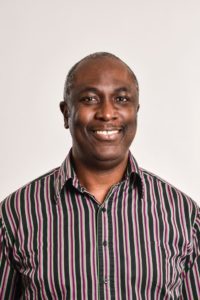 Obuks Ejohwomu is a lecturer in Project Management here in MACE, and is also the Director of our MSc in Commercial Project Management. He was recently called upon to help Manchester City Council (MCC) to coordinate and test thousands of pieces Personal Protective Equipment (PPE) for key workers in the city.
We spoke to Obuks to find out more….
Can you give us a brief overview of the issue?
The Head of Major Projects in MCC was leading a new project to distribute PPE to healthcare operatives in Manchester. During the early days of stock taking, it became apparent that 150,000 of the masks did not have the expected certification seal. At this point, MCC had approximately 7 days' worth of certified masks left. Ordering new supplies was not a viable option due to the global demand for PPE. However, they could not use the masks they had received without having certified them first.
"The project goal was to develop a rapid assessment method for the PPE"
The problem was how could they quickly resolve this issue and ensure all the PPE was certified and safe for use. Consequently, the project goal was to develop a rapid assessment method for PPE for properties such as fluid resistance.
How were you able to help resolve this issue?
This was a clear case of managing a high-profile project with 'unknown unknowns' and with an unrealistic lead time and duration. Of the 100+ project management tools and techniques that exist I depended mostly on implicit knowledge, several brainstorming meetings, informal networks, effective communication, stakeholder management, risk management and trust in the successful delivery of the project goal.
"This required managing a high-profile project with 'unknown unknowns'"
This involved mobilising the required resources across Manchester, Coventry and Brighton universities, coordinating and communicating (Zoom, emails, and phone calls) round the clock for five nights with the various stakeholders without losing focus of the goal.
What did you do, and who else was involved?
I was the project lead. This meant I took delivery of the brief, mobilised the required resources (other leading researchers in my network). I developed the communication plan and the programme for the experimental work, which included two options. Option one required access to Manchester's fluid laboratory in the Department of MACE. Option two required access to a fluid laboratory in Brighton University.
This singular decision to have multiple options led to the success of this project. I also built a contractual agreement into the communication plan so the project expectations and risks were clear. I lead the project team of eight experts from universities in Manchester, Brighton and Coventry.
How do you feel about being able to use your expertise and knowledge in this way?
I am humbled to be able to make a modest life-saving contribution to the Covid-19 crisis. It really hit me when I received this feedback from Professor Martin Schröder, Vice-President and Dean of the Faculty. "I'm delighted our Faculty was able to help the City Council and our health workers. Many congratulations and thanks to Obuks. I am so proud of the staff in the Faculty and Obuks in particular. He is a star!"
"I am humbled to be able to make a modest life-saving contribution to the Covid-19 crisis"
The success of this project mainly lies in the ability to deploy the most suitable project management knowledge required to manage 'unknown unknowns' at a time of disruption. This has contributed to MCC's ability to equip essential workers with the PPE they require.
The teams worked over the Easter Bank holiday to deliver comparative tests using existing equipment and modified test rigs to help understand the 150,000 uncertified PPEs. Head of Major Projects at Manchester City Council said: "I have never been prouder to work with a group of academic contacts than on this occasion. The way in which Obuks brought together a quality team of enlightened and enthusiastic fellow researchers and practitioners was outstanding."
Find out more about the four MSc courses we offer in Management of Projects!
Want to meet more of our fantastic MACE staff, students and alumni? Check out the 'Meet MACE' section of the blog.
Banner image: Prachatai
Related posts