Alumni Profile: Huanming Huang
International student profiles Meet the Department Student experience 28th May 2019
Have you ever wondered what School of Chemistry graduates go on to do after they finish University? In the first of our new series of alumni profiles, we caught up with Huanming Huang who told us a little more about his PhD and his work following graduation.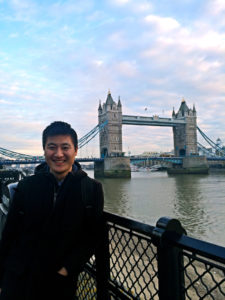 Huanming Huang, from China, completed his PhD "Radical Cyclisation Cascades Triggered by Electron-Transfer to Amide Derivatives" in 2017. He was supervised by Professor David Procter.
"I received a PhD degree from the University of Manchester in September, 2017. Now I continue to work in Professor David Procter's group as an EPSRC-PDRA fellow. Thanks to being funded by The President's Doctoral Scholar award from The University of Manchester, I started my PhD study in Manchester in 2014. This experience in Manchester and Procter's group really helps me in learning chemistry knowledge and the skills in the laboratory. Here you have a lot chances to listen to frontier chemistry seminars by world-leading chemists, discuss with world-famous professors, and work with very brilliant colleagues. The group members and staff in the School are really nice and always helpful. I am sure this valuable experience will be helpful in my future career."
Thank you Huanming for sharing your experiences with us.
We enjoy hearing from all of our graduates about what they have been doing since leaving the University. If you have a story that you would like to share then please get in touch by emailing ug.chemistry@manchester.ac.uk
Related posts