Alumni Profile: James Stevens
Chemistry in the real world 16th August 2021
In this Alumni Profile Chemistry B.Sc (Hons) Alumnus, James Stevens, talks about his next steps after graduating from the University, his postgraduate study in Coventry and his new job as an Energy Consultant. He gave us his advice for students and new graduates preparing for the world of work.
Why did you originally choose to study your course at the University?
I've been fascinated with science since I was a young boy. I really enjoyed chemical lab sessions throughout school. We had a session where we synthesised paracetamol and we were able to test its purity at Leicester university. I thought it was great fun and wanted to learn more about it.
The course at Manchester looked great to me. The modules on the course looked interesting. The course offered transferable skills that would be beneficial throughout my career. The history of chemical and physical sciences in Manchester was widely renowned, something that I wanted to see first hand.
Can you tell us a little about your career post-university, and the role you're in now?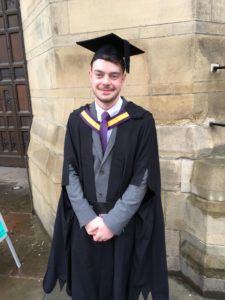 After graduating, I took some time out to discover how I can apply what I have learned to create a positive impact. I reflected that the green chem and atmospheric chemistry modules were my favourites, and I decided that I would help create an environmentally sustainable future.
I decided to study Renewable energy Engineering at Coventry University.
After graduating I found a role as an Energy Consultant with Envantage ltd. My role is focussed on creating strategies to help businesses reduce carbon emissions through optimising energy efficiency to meet sector regulations. I typically work on a variety of projects involving carbon reporting procedures and reduction strategies.
How did your Chemistry degree and time at Manchester set you up for your career path?
A lot of what I learned from Manchester had equipped me with the skills to an engineering degree, as well as research, report writing, presenting information, etc (soft skills). As chemistry is a highly numerate subject, the maths skills I have learned are extremely useful. Topics covered include probability, statistics, calculus. Calculating factors for carbon dioxide content of different fuels. Thermodynamics is particularly useful, especially for determining efficiencies of different engines/turbines/generators and their corresponding fuel sources.
How did you go about job hunting? At what point did you start doing this?
I was pretty relaxed about job hunting. I started after graduating my master's degree. During the pandemic, a large number of positions were put on hold. I applied to lots of engineering and consulting roles all over the UK.  My approach was tailored to each application, identifying the skills required and creating CVs and cover letters unique to the role I was applying. A number of applications required me to do psychometric, numerical and reading tests, all of which I prepared for. I practiced interviewing techniques and common questions. After many disappointments, I finally got accepted!
How have you found working life compared to student life? How have you had to adapt as an graduate?
Working life is great. More flexibility in what you learn and work on. You can get involved with exciting real world projects. I have become more accountable, making sure my work is to the highest quality. The work load is greater, so time management and the ability to prioritise are must haves. I've also had to improve the way I communicate.
What advice would you give to a student looking to study a Chemistry Bsc?
Don't put so much pressure on yourself. Study what you like because you enjoy it. You can still change directions at a later point. Studying chemistry has prepared me for more than just lab sessions, it has given me the ability to learn for myself.
You can read more alumni profiles on our blog, and explore the range of different careers paths open to you as a Chemistry student at Manchester.
Related posts