International Student Profile: Amrita Chattopadhay, India
International student profiles Student experience 1st August 2019

Hi! My name is Amrita Chattopadhyay and I'm 18. I'm from India but I live in the U.A.E. I am going to my second year of MChem Chemistry with Industrial Experience.
Why did you want to study Chemistry at Manchester?
I got into my course via clearing. I initially applied for astrophysics, but I did not get the grades I expected. However, I did better in my Chemistry and English A levels compared to Physics and Maths so I decided to change my course to Chemistry as it still kept me on the path of my interest – to study the chemistry of planets and stars in our and neighbouring galaxies.
What do you enjoy most about the course?
I have really come to love the subject since taking up this course because it analyses and gets down to the bottom of problems in order to find solutions. It's the little things like understanding why certain molecules are arranged in a certain way, for instance, that always keeps me on my toes. In addition, the course also offers laboratory sessions, which in the beginning seem very rigorous; they're 6 hours long every week with new and challenging experiments each time. However, as the semester went by, labs turned out to be my favourite of all because we are always expected to conduct a new experiment with little theoretical knowledge and almost no practical experience. It taught me how to tackle problems in different creative ways within a limited time span – think outside the box, and of course, also how to be less clumsy (we work with lots of glassware!).
…And the wider University?
I love how inclusive and diverse the entire student community is at the University is. This was a big positive for me especially as an international student who wanted to integrate into the student life and culture at the University.
What are your thoughts on Manchester as a city? Did you visit the city before starting your course?
Manchester as a city is very wholesome. It's always bustling with people and there's always some activity going on in the city such as concerts, the Christmas markets, cricket matches (the World Cup 2019!), marathons and much more. The city has one of the best nightlife I have ever seen with several traditional English pubs. There's also great restaurants spread across the city so there's a bit for everyone, be it Korean or Indian or Italian.
Unfortunately, I was not able to visit the city before starting my course as I live overseas in Dubai.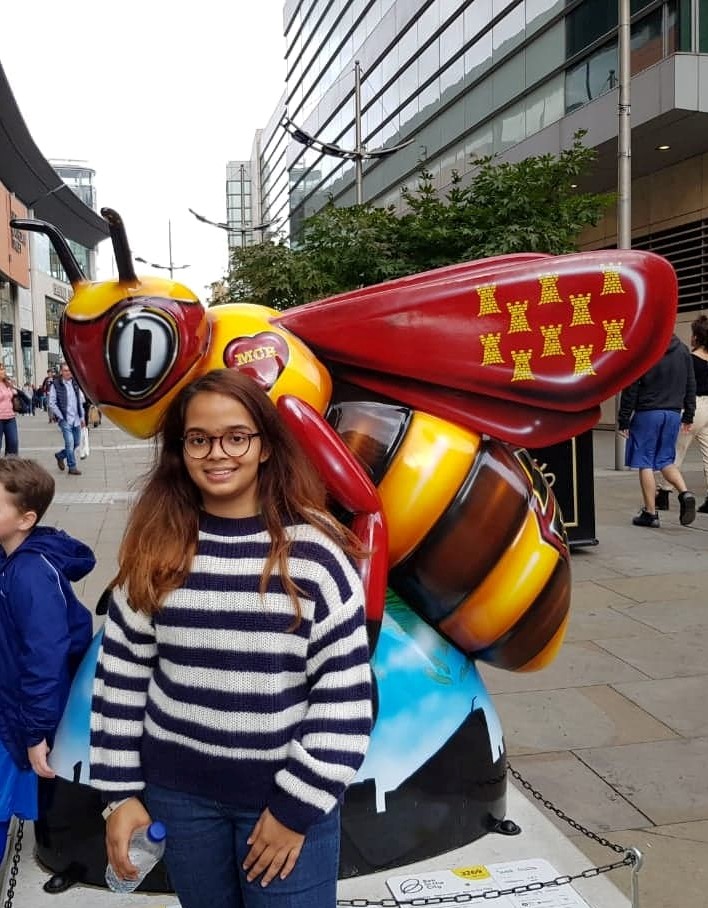 What did you study immediately before starting your course?
I had just completed my A levels in Chemistry, Physics, Mathematics and English right before starting university.
How do you see your time at The University of Manchester helping with your career plans?
My course – MChem Chemistry with Industrial Experience – includes a year in industry in my third year where I get to work in an actual workplace environment that gives me a taste of professionalism and allows me to solve practical problems in real time.  I hope this will give me some insight into what field of Chemistry I am interested in and about what type of jobs I'm suited to best.
Has your time studying at The University of Manchester caused you to rethink or alter your career plans?
Studying at the university has caused me to rethink my career plans as my course has opened up infinite opportunities and career paths to me to choose from such as organic chemistry, synthetic chemistry, physical chemistry, nanochemistry, environmental chemistry, medicinal chemistry and countless others. The endless possibilities in each of these fields have intrigued me, allowed me to explore my options and caused me to be more open minded about what I want to specialise in in the future.
What advice would you give to someone considering coming to Manchester to study Chemistry?
I would say do read up on the course structure and what it has to offer and if you think it's what you're looking for and are best suited to, and you have the grades you need, go for it and you'll not regret it. This course demands a combination of wits and hard work, but you'll get a hang of it soon enough!
How did you find it when you moved to Manchester and settled into a new city?
As an international student, I had to move across continents and several time zones to a new country, hours away from home by flight and this whole transition was quite daunting but I was quick to make new friends, which is quite important when you move into a new city. Making friends not only helped me in my basic chores such as setting up a bank account, registering with a local GP, etc. but also helped me keep engaged which made me feel less homesick and more at home in Manchester. The friends I made on day 1 in Manchester are few of the closest I have to date.  Moving in and settling into a new city can be very scary but with the right company, it can be very exciting and smooth.
Outside university, what do you get up to in your spare time?
I joined the Indian Society of Manchester in my first year of university, so I dance for the society for programmes and competitions in my free time. In addition, I spend a considerable amount of time volunteering with the university's volunteering team. I get to take part in several activities that benefit the local community and raise awareness such as planting trees, clean ups and local fairs to name a few.  I also enjoy spending some quality time swimming at the Manchester Aquatics Centre and I am really looking forward to joining a sports society in my second year to try to keep fit. Exercising can be quite the stress buster during exams!

Thank you Amrita, for sharing your experiences with us. If you have enjoyed reading Amrita's story and want to find out more, more information about our courses is available here.
Related posts