Staff highlight: Adisa Azapagic awarded MBE for sustainability and carbon footprinting work
Meet the Department 6th May 2020
Adisa is Professor of Sustainable Chemical Engineering at Manchester. She leads the Sustainable Industrial Systems group in CAES and was awarded an MBE in the 2020 New Year Honours for her work on sustainability and carbon footprinting.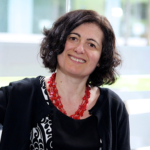 "In the 1970s when I was growing up, there was a lot of pollution around and, at this very early age, I thought that something had to be done about it. And out of that grew my professional interest in becoming a chemical engineer with a specialism in the environment and sustainable development.
"Our current production and consumption patterns are unsustainable as we deplete resources and pollute the environment at an unprecedented rate. We live in a so-called 'linear world', following the "take, make, use, dispose" approach. We need to reverse this trend. To be able to do that, we must first be able to understand the full life cycle of products from 'cradle to grave', to help us identify the hotspots that should then be targeted for improvement.
"Take for example air pollution. That is still a huge problem, even in developed countries such as the UK. And yet, it is a forgotten problem because we think we've solved it. Another problem to worry about is waste. We are littering the planet with waste. More than 90% of the products we buy and use become waste within six months of their purchase.
"As chemical engineers, we can do a lot to address these problems. One example is related to reducing greenhouse gas emissions from industry which we enabled through carbon footprinting software that we developed, called CCaLC. CCaLC helps companies to estimates greenhouse gas emissions in their supply chains, considering the whole life cycle of their products from cradle to grave. They can then use the results to identify hotspots in the life cycle and to target them to reduce their greenhouse gas emissions. By working with various companies, we estimate that using CCaLC has helped to reduce around 7 Mt CO2 eq., worth around £450M in terms of the avoided damage from climate change.
"In addition to chemical engineers, everybody in society has a role to play in sustainable development: consumers – and of course we're consumers too; policymakers are always critical in shaping the right policies to enable sustainable development; but above all I think that education of young people is important.
"For me personally, chemical engineering has been a very rewarding career. If I could start again, I'd choose to do it again!"
Chemical Engineering. Sustainability. The University of ManchesterSustainabilityTeaching
Related posts