The Buzz Episode 7: Alan Turing
The Buzz podcast 10th September 2020
Listen on Spotify.
Listen on Stitcher.
Listen on Apple Podcasts.
This is the last episode in Season 1 of The Buzz and we hope you've enjoyed it. If you've missed any of our previous episodes, you can catch up here. We'll be back with another deep dive into Manchester's science and engineering research and legacy soon.
This episode of The Buzz is dedicated to one of The University of Manchester's most treasured heroes – Alan Turing.
We'll just take a big breath and then go ahead and list all of Turing's accolades: mathematics whizz, father of modern-day computing, forefather of artificial intelligence, creator of the Turing test, mathematical biologist, philanthropist, long-distance runner… oh, and he also played an instrumental role in bringing World War II to an end. There's a reason he's been chosen as the face on the new £50 note!
Turing spent the latter part of his life at The University of Manchester, switching disciplines several times. It was here he was able to indulge his passion for computers – and, of course, it was in Manchester where one of the earliest stored-program computers, the Manchester Mark 1 (better known as The Baby), was built.
As a result, Turing is a heritage hero for both our Department of Mathematics and Department of Computer Science – and the home of our maths department is named in his honour.
Perhaps Turing's greatest achievement was cracking the German wartime cipher machine, the Enigma. Working alongside a team of expert code breakers at Bletchley Park, Turing was tasked with deciphering a machine that was helping to give Germany the edge on the battlefield. The machine was designed to give over 150 million million million possible combinations for every message intercepted by the Allies, so breaking it was a near-impossible task – but the team did it.
There are those who say that the cracking of the Enigma was one of the major breakthroughs that helped the Allies bring the war to an end. The result is that millions of lives that could have been lost were saved.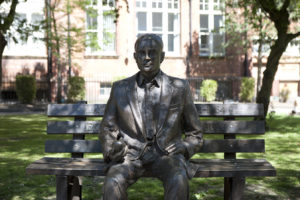 Today, Turing is celebrated not only for his wartime heroics and scientific breakthroughs, but also for what his legacy means to the LGBT community. In 1952, while working at the University, Turing was arrested and later prosecuted for 'gross indecency' following the discovery of his relationship with a man.
Turing avoided prison by being chemically castrated, and also lost his Bletchley Park security clearance. He died from cyanide poisoning just a few years later.
More than half a century later, the Alan Turing Law was created – legislation intended to exonerate other men convicted of indecency offences at a time when homosexuality was illegal.
Each year during Manchester Pride, his statue in Sackville Street Gardens becomes the site of a candlelit vigil in his honour, and a chance to remember those who have been persecuted or who have lost their lives to HIV.
Turing really is at the heart of Manchester and what the city stands for, and is a true heritage hero.
We spoke to Turing's nephew Dermot Turing, who told us more about Turing's time at Bletchley Park. We also spoke to James Sumner, Senior Lecturer in History of Technology at the Centre for the History of Science, Technology and Medicine at the University. You can listen to the full interviews below:
Dermot Turing and James Sumner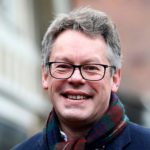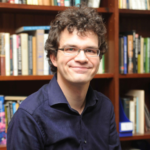 You can find out more about some of the topics we discuss at the links below:
Words: Hayley Cox
Images: The University of Manchester, Dermot Turing
Alan TuringComputer ScienceMathematicsThe BuzzThe Buzz Podcast
Related posts