Meet Manchester's heritage heroes
Heritage 11th August 2020
You feel it as you walk down the corridors; as you take a seat in the lecture theatres; as you enter the labs – The University of Manchester has a rich academic heritage many houses of further education can only grasp at. If you're planning to join us in September, you'll be following in the footsteps of legends both past and present – scientists and engineers like Alan Turing, Ernest Rutherford, Tom Kilburn, Jocelyn Bell Burnell, Beatrice Shilling, Andre Geim and Brian Cox.
We know that university will be different for those of you who join us in September. You can find out more about our plans for the coming academic year here.
We are busy creating a safe work and study environment for you, but in the meantime we'd like to introduce some of the heritage heroes who came before you. With all the challenges you've already overcome in 2020, imagine what you can achieve in the future. There's a good chance that your name will be added to our growing list of legends!
Ernest Rutherford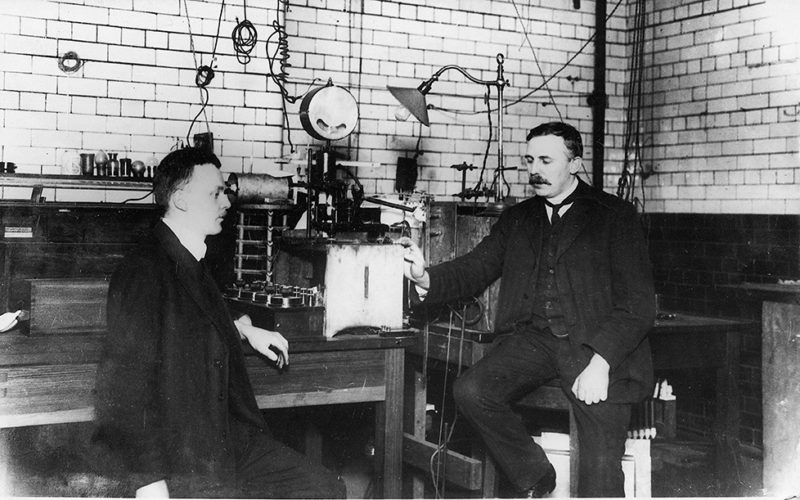 A century ago, Ernest Rutherford changed the face of Physics forever – in spite of being a chemist. Nuclear physics was born right here in Manchester (in spite of what those in the White House would have you believe) with Rutherford's discovery that the atom contains a highly concentrated positive charge – the nucleus with its protons and neutrons – at its centre.
This led to Rutherford becoming the first person to initiate an artificial nuclear reaction – often mislabelled as splitting the atom – just a few years later. "This discovery, and the earlier work done by Rutherford that established the existence of an atomic nucleus itself, essentially established the field of nuclear physics right here in Manchester," says Prof Sean Freeman, Head of the Department of Physics.
Andre Geim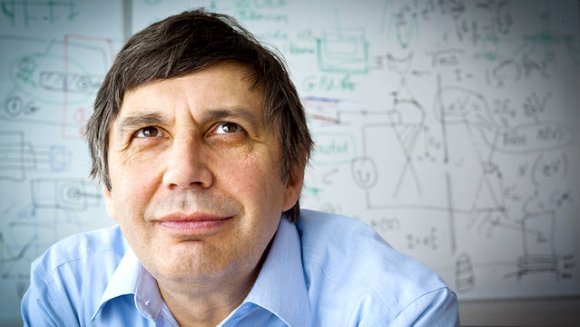 When it comes to modern physics at Manchester, it might be a certain physicist – one who's fixated with the wonders of the universe and has a former career in pop-rock music – who first comes to mind (yes, this physicist). But Sir Andre Konstantin Geim has done just as much to put Manchester on the map. After all, he – along with Sir Konstantin Novoselov – were the first people to successfully isolate the wonder material Graphene. And the discovery was made during an informal study evening, using a simple pencil and a roll of sticky tape. When you're a physicist, the whole world's your lab.
Geim is something of an enigma. Not only did he win the Nobel Prize for isolating Graphene, but he has also been awarded the Ig Nobel Prize for research that led to him levitating a frog. And let's not even get into the paper he co-authored with his favourite hamster, Tisha.
Jocelyn Bell Burnell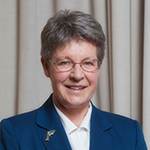 Another physicist for you – but one you may not have heard of as, in spite of a Nobel Prize being awarded for her discovery, it did not go to her. In 1967, Jocelyn Bell Burnell, who attended the first ever summer school on radio astronomy at our own Jodrell Bank back in 1964, was just 24 and studying for her PhD when she noticed something that could easily have been dismissed as a bit of dust or a scuff on the print-off from the chart recorder that tracked the stars overhead.
In fact, that tiny mark was evidence of a signal from deep in space. Dame Jocelyn had discovered pulsars – the rapidly rotating neutron stars that shoot colossal beams of electromagnetic radiation from their poles. Dame Jocelyn received no official recognition for the discovery – she was not named on the Nobel Prize. However, today we're resetting the balance – we have named the new lecture theatre in the annex of the Department of Physics' Schuster Building in her honour.
Dr Obuks Ejohwomu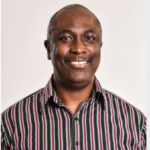 At Manchester, we're proud to be at the frontline of the fight against COVID-19, from the mathematical modelling we provide to the government to the personal protection equipment (PPE) we have created using 3D printing. And then there's the matter of testing 150,000 pieces of PPE donated by organisations across the city to Manchester City Council.
Rising to the challenge of assuring the kit was safe and suitable for distribution was Dr Obuks Ejohwomu, the Faculty's Director of Commercial Project Management and a lecturer in Project Management at the Department of Mechanical, Aerospace and Civil Engineering. In just eight days, Ejohwomu arranged video conferences with the team testing the PPE, led the physical testing, and wrapped up the project with a video conference at the end. What a hero.
Prof Phil Manning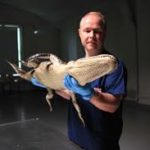 Adventurer, paeleontologist and film star, Professor Phil Manning of the Department of Earth and Environmental Sciences is a real-life Dr Alan Grant. If that wasn't enough, he's on a mission to uncover a real Jurassic World.
In the Badlands of Wyoming lies a site so rich in prehistoric treasures its exact location has to be kept top secret. Each spring, Manning, his project partner Dr Victoria Egerton and their team head to the site and spend their days digging in almost unbearable heat. The rewards have certainly paid off – at the close of the 2019 excavation season, the team had three trucks full of fossils. Unfortunately, COVID-19 has meant that the dig was paused this year, but there are certainly more ground-breaking discoveries a-waiting once the team returns.
These five individuals provide just a hint at the rich science and engineering heritage you'll become a part of if you join us in September. We can't wait to meet you!
Words – Hayley Cox
Images – The University of Manchester
Aerospace and Civil EngineeringChemistryCOVID-19Dame Jocelyn BellEarth and Environmental SciencesGeimgrapheneheritagehistoryMechanicalMission JurassicPhysics and AstronomyRutherford
Related posts